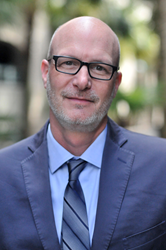 His architectural background, community involvement and entrepreneurial spirit align well with our company's principles, and we look forward to having him as part of the team
Mt Pleasant, SC (PRWEB) March 28, 2016
The Cassina Group is proud to announce the addition of Real Estate Sales Agent David Bouffard.
A native Vermonter, David has called Charleston home for over 10 years. He has spent the past 20 years practicing architecture in Washington DC, New York City, London and most recently Charleston, where he was employed by Liollio Architecture. He earned a Masters in Architecture from Washington University in St. Louis and a BA from Boston College. He is also co-owner of Sugar Bakeshop, a downtown bakery on Cannon Street, which has received both regional and national attention. He is involved with numerous local fundraising and charitable efforts supporting the arts, preservation and greenspace initiatives.
"We are thrilled to have David join The Cassina Group," said Owen Tyler, Managing Broker. "His architectural background, community involvement and entrepreneurial spirit align well with our company's principles, and we look forward to having him as part of the team."
The Cassina Group is known as Charleston's innovation-driven real estate firm, with a proven reputation for delivering stronger results though leading-edge technology and building lasting relationships. For more information on David Bouffard or The Cassina Group, please visit http://www.TheCassinaGroup.com.
About The Cassina Group
The Cassina Group is a boutique real estate brokerage with offices in Mount Pleasant, SC and Charleston, SC. Recent awards include top honors from Charleston Magazine, Inc. 5000 and SC Biz News. For more information, visit http://www.TheCassinaGroup.com or call 843.628.0008.