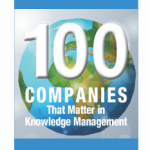 San Jose, CA (PRWEB) March 30, 2016
Smartlogic, the Content Intelligence Company, has been listed as one of the '100 Companies that Matter in Knowledge Management' by the leading information provider KMWorld, March 2016.
Smartlogic Inc., headquartered in San Jose, CA, is the maker of Semaphore, an enterprise-grade Content Intelligence platform that complements an organization's investment in enterprise search, workflow, analytics and content management systems.
Semaphore's feature rich toolset provides taxonomy & ontology management, automatic classification; analytics and information extraction and semantic search capabilities that help organizations unlock the value in their unstructured content.
KM World is the leading information provider serving the Knowledge, Document and Content Management systems market. Each year industry colleagues, practitioners, theorists, and analysts, analyze and identify the 100 organizations whose products and services best meet the needs of their readership.
Smartlogic's CEO Jeremy Bentley said: "We are honored to be recognized by KMWorld again this year. That our product continues to be singled out as one that meets the tough set of criteria and rigorous evaluation processes by the panel is indeed high praise. "
"This honor not only confirms us as thought-leaders in the field of Content Intelligence and Knowledge Management but also demonstrates that our customers continued commitment to Semaphore is validated by our peers."