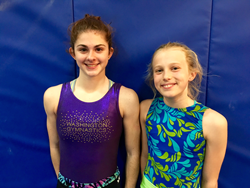 Emeryville, CA (PRWEB) March 27, 2016
After a strong showing at the 2016 Level 8, 9, and 10 Northern California State Championships, all Head Over Heels competitors qualified to the Region 1 Championships and earned eight individual state champion titles. Brooklyn Varize (level 9 beam), Talia Brovedani (level 10 floor), Nina Schank (level 10 bars and beam), Casey Brown (level 8 vault), Yuka Iwashita (level 8 vault), Shannon Zwick (level 8 floor), Ayanaa Sudduth (level 8 beam) earned gold in their respective age groups. The level 10 team finished 2nd of 20 teams, while the level 8 squad placed 4th of 46 teams.
With outstanding all-around performances, Talia Brovedani and Casey Borwn earned spots on the 2016 Northern California All-State team. The top 12 level 8 all-around scorers and the top six level 10 all-around scorers at the Northern California State Championships will represent Northern California at the Region 1 Championships. The upcoming Region 1 Championships include competitors from California, Arizona, Nevada and Utah.
Brown was crowned the level 8 vault champion and claimed 2nd place all-around in her age group. Brown also finished 6th amongst all age groups, scoring 37.575. In the level 10 competition, Brovedani won the floor title and finished 3rd all-around in her age group. With her 38.175 all-around score, Brovedani earned the 4th spot on the All-State team.
The Region 1 Championships will take place on April 8-10, 2016 hosted by Browns, Las Vegas at the South Point Hotel and Casino.