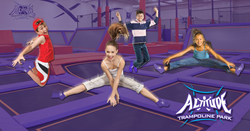 Altitude Costa is very proud to be opening a second trampoline park in Puerto Rico
San Juan, Puerto Rico (PRWEB) March 29, 2016
San Juan, Puerto Rico based Altitude Costa, LLC has announced plans to open its second Altitude Trampoline Park in Puerto Rico. The new park will be located In Bayamon Oeste and will open in July of this year. Altitude's first park in Puerto Rico opened November 27, 2015 in Gurabo and has enjoyed tremendous success. The new park in Bayamon will be 38,000 square feet and will feature over 200 interconnected trampolines. Altitude Bayamon will have facilities to host more than 25 birthday parties at a time. Other groups that can plan outings include corporate teams, church groups, sports teams or any size group that is ready to jump high and burn off some energy. Altitude Costa's website devoted to opening trampoline parks in Puerto Rico can be found at http://www.altitudepuertorico.com.
"Altitude Costa is very proud to be opening a second trampoline park in Puerto Rico. Our first park has been received so well by the warm and wonderful people in Gurabo that it was an easy decision to open another location," said Allan Jones, Altitude Costa President.
The indoor park will include a variety of specific activities such as multiple dodgeball courts, basketball dunking lanes, kids court, a rock climbing wall, gymnastics tumble tracks, a huge main court and the largest foam pit in Puerto Rico. Fitness classes will also be offered
"Altitude Trampoline Park Licensing Group (based in Fort Worth, TX) continues to be the industry leader in innovation and building the highest quality trampoline parks, domestically and internationally, and we are thrilled to have Altitude Costa open parks in Puerto Rico," said Curt Skallerup and Jeff Rutten, Altitude Trampoline Parks co-founders.
Altitude Trampoline Parks operates eleven parks in Texas, Louisiana, Arkansas, Massachusetts, New York, Puerto Rico and England. Over 40 additional parks are scheduled to open domestically and internationally in 2016 and 2017.
In addition to building Altitude Trampoline Parks in Puerto Rico, Altitude Costa, LLC is responsible for licensing Altitude Trampoline parks throughout Latin American and the Caribbean – from Mexico to Argentina and everywhere in between. Their licensing website is http://www.altitudecosta.com.