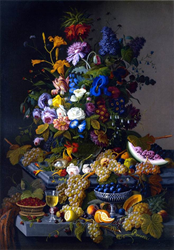 Chicago, IL (PRWEB) March 30, 2016
The International Floriculture Expo and United Fresh Produce Association will again collaborate for the 9th Annual Iron Designer Competition. The event will be held on Tuesday, June 21 on the expo floor at McCormick Place in Chicago, as part of three days of floral and produce industry events and education from June 20-22.
This lively competition features leading floral designers from around the country in a challenge that will test their skills and creativity in front of a panel of expert judges and a cheering audience. Guided by the theme, "Still Life: Fusion of Produce and Floral," designers race against the clock to choose from an array of fresh cut floral and fruits and vegetables and create an innovative display inspired by 17th and 18th century European still life paintings. Still life paintings traditionally include very elaborate floral and produce elements, but competitors will be challenged to bring their creations into the modern day world of floral design.
"For centuries, floral designers have included elements of produce and this twist will incorporate the luxury of the past in a modern way to keep the competitors on their toes," said Christine Salmon, Event Manager for the International Floriculture Expo. "The hand-selected competitors are always top-notch, so we know their arrangements will be grand."
"We were delighted to see the creative use of produce in last year's floral arrangements when we first participated in the Iron Designer competition," said United Fresh President & CEO Tom Stenzel. "We are excited to once again see how produce commodities will be embraced by the floral designers participating in the Iron Designer Competition."
Last year's winner was Joseph Lesczynski of Phillip's Flowers in Chicago. He utilized items from floral companies Colour Republic, Syndicate Sales and Smithers Oasis, as well as produce commodities from Sunkist, WP Rawl, Bay Baby Produce, Apio, Inc, National Onion Association, and USA Pears.
The International Floriculture Expo and United Fresh will be co-located with FMI Connect and the New Global Cold Chain Expo to create a total supply chain environment. International Floriculture Expo features a full day of education on Monday, June 20 followed by two days of events on the expo floor Tuesday, June 21 – Wednesday, June 22. To attend the Iron Designer Competition, or apply to compete as a designer, visit: http://www.floriexpo.com/iron-designer/
###
International Floriculture Expo
The International Floriculture Expo is North America's largest business-to-business trade show for the floral industry, uniting mass market retail buyers, florists, suppliers, media, and other industry professionals. More than 5,500 floral and produce professionals attended the International Floriculture Expo and United Fresh last year, including procurement managers from top U.S. floral retailers such as 1800Flowers, Ahold, Albertson's, FTD, Meijer, Publix, Target, and Wegmans. The 2016 edition of the International Floriculture Expo will be held June 20-22, 2016 in Chicago, IL at McCormick Place. The annual event is produced by Diversified Communications, an international media company that produces over 100 events around the globe serving a number of industries. http://www.floriexpo.com
About United Fresh Produce Association
Founded in 1904, the United Fresh Produce Association brings together companies across every segment of the fresh produce supply chain, including growers, shippers, fresh cut processors, wholesalers, distributors, retailers, foodservice operators, industry suppliers and allied associations. We empower industry leaders to shape sound government policy. We deliver the resources and expertise companies need to succeed in managing complex business and technical issues. We provide the training and development individuals need to advance their careers in produce. Through these endeavors, we unite our industry with a common purpose – to build long-term value for our members and grow produce consumption. http://www.unitedfresh.org