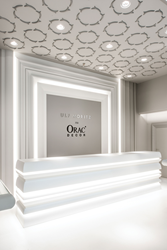 Design is experience. It is finding new ways of bringing an interior to life
Bogota, NJ (PRWEB) March 31, 2016
Ulf Moritz has teamed up with ORAC DECOR®, Europe's #1 recognized manufacturer of high quality interior polyurethane mouldings to give your interior real character and form. On walls or ceilings, with or without integrated lighting, these decorative elements and mouldings form the basis for a completely new 3D experience.
According to Ulf Moritz,"Design is experience. It is finding new ways of bringing an interior to life. That is precisely what Orac Decor® does. It plays with shapes and volumes, light and shape, patterns and dimensions. Working with Orac Decor® was a unique opportunity for me to develop my ideas. I have designed a collection of 12 decorative profiles and elements for you. These designs are for those who dare. With a little courage, you can create your own extra dimension in your interior. Now it is up to you."
The Ulf Moritz collection consists of 12 elements ranging from panel and cornice mouldings, skirting boards, and lighting profiles to organic ornaments. The elements can be used separately or together on the walls, doors and ceilings of your interior. The possibilities are endless.
With a little creativity, you can design arrangements to be proud of, according to your own taste and style, regardless of the style of architecture.
The ORAC DECOR® Ulf Moritz Collection is available exclusively in North America through Architectural Products by Outwater with offices and warehouses in New Jersey and Arizona.
About Outwater (Outwater Plastics Industries, Inc. +
Architectural Products by Outwater, LLC): Outwater can be contacted Toll Free at 1-800-631-8375 (for sales and product information in the USA & Canada) / 1-201-498-8750 (for sales and product information outside of the USA & Canada) or viewed online at http://www.outwater.com
Outwater was founded as a brick and mortar company in August 1972 to provide small and mid-sized furniture and cabinet builders with a reliable source from whom they could purchase plastic extruded profiles in smaller quantities.
From the vendor of a single product line, Outwater, with sales and distribution facilities in New Jersey and Arizona, is an international manufacturer and distributor of more than 65,000 traditional and innovative products required by woodworkers, cabinet and furniture manufacturers, builders, remodelers, designers, architects, point-of-purchase and display fixturing manufacturers, OEM's, and retail consumers.
Contact: Rosalie Conti, Public Relations
Outwater Plastics Industries, Inc. +
Architectural Products by Outwater, LLC rosalieconti(at)outwaterplastics(dot)com
(201) 498-8750
Outwater Plastics Industries, Inc. +
Architectural Products by Outwater, LLC
Sales & Product Information (USA & Canada):
1-800-631-8375 / 1-201-498-8750
Fax (USA & Canada): 1-800-888-3315 / 1-201-498-8751
Sales & Product Information (Outside of the USA & Canada):
1-201-498-8750
Fax (Outside of the USA & Canada): 1-201-498-8751
Email: info(at)outwaterplastics(dot)com
New Jersey • Arizona
###