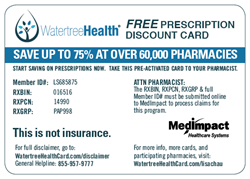 Digital prescriptions are convenient and thwart theft as well as forgery.
Destin, Florida (PRWEB) March 29, 2016
Watertree Health is addressing the rise of e-prescriptions by providing digital tools. As of March 27th, in New York it is legally mandatory that doctors send all prescriptions electronically. In other states, at least 40% of physicians are e-prescribing. This rate is likely to grow because digital prescriptions are convenient and thwart theft as well as forgery.
Electronic prescriptions also reduce medication errors because pharmacists will no longer need to decipher handwriting. According to the U.S. Food and Drug Administration, illegible prescription writing causes 1.3 million injuries a year nationwide and at least one death daily.
Watertree Health provides tips on how to save money on electronic prescriptions:
1. Pick the pharmacy where the prescription is to be sent by going to http://www.RxPriceSavings.com. Just need to enter the drug name and zip code to see the savings at local pharmacies. The Watertree Health Prescription Discount Card is accepted at 95% of pharmacies nationwide.
2. If prescription has already been sent, and it is not covered by insurance or co-pay is high, text the word "CARD" to 95577 for a ready-to-use card that provides immediate savings. All prescriptions are eligible for discounts up to 75% with the Prescription Discount Card.
3. Can also go to http://www.WatertreeHealthCard.com and click "get your free card". Show the pharmacist the discount codes on the phone.
4. For future use, save the discount codes on the phone by taking a screen shot.
Watertree Health President, Shane Power says, "My Company supports the transition to electronic prescriptions because it helps make sure patients are taking medications as prescribed by reducing errors. Prescription compliance is very important to maintaining a positive cycle of health for people in communities across the country. That's why we introduced our Prescription Discount Card, so individuals can afford their prescriptions."
About Watertree Health
Watertree Health was founded in 2010 to address the growing need for accessible health care products and services in America. The Company's mission is to help people improve their lives by improving their health. Watertree Health's founders believe everyone should be able to afford their medicines. The Company launched the free Prescription Discount Card in 2011 to help the tens of millions of people in America without adequate prescription coverage. For more information, visit http://www.WatertreeHealth.com