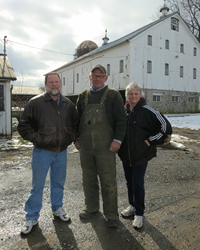 Frederick, MD (PRWEB) March 31, 2016
A Partnership between Big White Barn Produce of Buckeystown, MD and the Greater Urbana Area Food Bank of Urbana, MD was formed last month. The partnership establishes a commitment by Big White Barn to provide a weekly donation of overrun produce to the Food Bank during the 16 weeks Big White Barn runs its CSA program. The Food Bank will then distribute the produce to the over 180 families in need fed monthly by the food bank.
In an effort to give back to the community, Big White Barn seeks to end food waste by donating the overflow or 'ugly produce' to families in need. Many CSA programs find themselves with blemished or misshapen produce that is edible and nutritious but not visually acceptable for the CSA share boxes. Without a proper outlet to distribute this overflow produce much of it would go to waste. The Food Bank serves families in need of fresh produce, however, without donations by businesses like Big White Barn it is often in short supply. This partnership seeks to bridge that gap.
This partnership marks the first of Big White Barn's efforts in community philanthropy by supporting the Food Bank. Big White Barn's Farmer Steve said, "We look forward to working with the Greater Urbana Area Food Bank as we often have an overabundance of and feel compelled to donate to those in need while supporting the selfless efforts of Jo and Larry."
Often fresh produce is in short supply at the Food Bank while items that are more shelf stable are plentiful. About the partnership Jo Otsby said, "I am so excited to be partnering with Big White Barn this year to bring fresh produce to our food bank families. These people usually only get foods from boxes and cans. This will greatly improve what we are able to offer them."
More events such as an upcoming plant sale are planned to help the growing needs of the Foodbank.
For the past eight years, Big White Barn has been offering CSA shares and fresh cut flowers grown on their nearly 200-acre farm, located in Buckeystown, MD. All produce and flowers are grown using organic practices. CSA sign-ups are currently underway at http://www.bigwhitebarn.com.
Serving over 198 families: over 700 people, of which 150 are children each month, the Food Bank relies on continuous donations from the local community. Follow Greater Urbana Area Food Bank on Face Book to keep up with on-going needs.