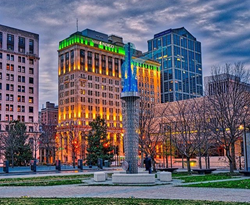 "Printers Ally is one of the most historic neighborhoods in downtown Nashville and I'm so excited to be a part of the History of its rebirth."
Nashville, Tennesse (PRWEB) April 08, 2016
Winston Hospitality and Hotel Indigo Nashville Downtown has completed a 30 room addition to its historic property. The hotel added colored LED lighting to the roof of building. This renovation project was led by General Manager Mr. Bill Bacelieri.
The next phase in the renovation will be upgrades to exterior and canopy. "We want to spotlight this amazing building and our historic neighborhood," said Mr. Bacelieri. "The building has been here for a long time, but many people still do not know it is a hotel with a restaurant and event space."
Hotel Indigo Nashville Downtown is located in two historic bank buildings that border "Printers Ally" in Nashville, TN. The hotel was featured as the best place in Nashville to stay when going to a NFL game by USA today. The hotel also features a newly renovated event space; and its own speakeasy bar and kitchen with live entertainment nightly.
http://www.usatoday.com/story/travel/hotels/2015/09/09/nfl-game-hotels/71924516/
http://www.ihg.com/hotelindigo/hotels/us/en/nashville/bnaus/hoteldetail