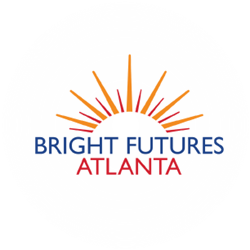 "It's an incredible honor to be recognized by the Atlanta Braves for what we've accomplished with Bright Futures Atlanta." -Philip Ross
ATLANTA, GEORGIA (PRWEB) April 01, 2016
Bright Futures Atlanta is proud to announce that Founder and Executive Director Philip Ross will be honored by the Atlanta Braves during the Opening Day game on April 4, 2016 as a part of a new program called Braves Country Community Hero presented by Chick-fil-A.
During the April 4 game against the Washington Nationals, Ross will be invited onto the field, and a video highlighting his work with Bright Futures Atlanta will be shown on the BravesVision video screen. The on-field presentation is set to take place after the 3rd inning. Ross will also be featured in the corresponding homestand's Play Bill, and in a blog post on the Braves Give blog.
"It's an incredible honor to be recognized by the Atlanta Braves for what we've accomplished with Bright Futures Atlanta," said Ross. "Our organization works hard to help young people in Atlanta achieve their potential, and to instill teamwork and discipline in them. Those are qualities that sports like baseball can teach, and this experience will give us the opportunity to showcase the mission of Bright Futures Atlanta to a wider audience."
Braves Country Community Hero presented by Chick-fil-A recognizes members of Braves Country who are making a significant impact on their community.
To learn more about Bright Futures Atlanta and how you can get involved through donations, volunteering your time, or in another capacity, please visit BFATL.org. To purchase tickets to the April 4 game, visit Atlanta.Braves.MLB.com.
ABOUT BRIGHT FUTURES ATLANTA
Bright Futures Atlanta is a Christian-based, year-round program offering academic instruction and after-school programming, as well as camp during the summer, to urban youth in inner city Atlanta. The organization was founded in 2002, and in 2009, Bright Futures Academy was established. The 23,000+ square foot education center is currently located at 1300 Joseph E. Boone Boulevard NW. To learn more about Bright Futures Atlanta, visit BFATL.org.