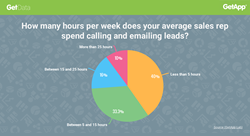 60 percent of businesses say their average sales rep spends more than 20 hours per month calling or emailing leads
Barcelona, Spain (PRWEB) April 05, 2016
New research published by GetApp, the largest cloud-based business apps marketplace, shows that the majority of sales reps working for SMBs spend at least 20 hours calling and emailing leads every month, highlighting the challenges faced by sales reps in their day-to-day processes.
The new survey forms part of GetApp's ongoing research program, GetData, which canvases multiple choice responses from over 500 business professionals working at small and mid-sized companies across the US.
According to the survey, which asked about how much time sales reps spend emailing or calling prospects, 60 percent of businesses say their average sales rep spends more than 20 hours per month calling or emailing leads. Ten percent of respondents say their sales staff spend over 100 hours per month making calls or emailing leads, while 40 percent of business owners say their reps spend less than 20 hours per month on the phone or emailing leads.
Christophe Primault, co-founder of GetApp says, "This GetData research highlights the productivity challenges that small business sales teams faces on a daily basis. Given the importance of calling and emailing in the modern sales process, the advent of sales acceleration software in the cloud can make the lives of sales teams easier."
SaaS sales software is designed to cut out unnecessary processes and make teams work more effectively.
"So much of the sales process takes place over phone and email," says John Rydell, CEO of PhoneBurner, a cloud-based Power Dialer and sales acceleration software. "Using technology to streamline that process and build a bigger, more engaged pipeline can pay huge dividends for sales teams."
GetApp's independently conducted research program, GetData, looks to inform the understanding of the impact of SaaS and cloud-based solutions' on small and medium-sized companies. The analyzed data collected via the ongoing research helps show real, current interaction between SaaS customers and products and services."
Full survey details:
Answers to the question "How many hours per week does your average sales rep spend calling and emailing leads?"
Answers to the question:
#1 — Less than 5 hours (40%)
#2 — Between 5 and 15 hours (33.3%)
#3 — Between 15 and 25 hours (16%)
#4 — More than 25 hours (10%)
Demographics: 500 US-based respondents from a panel of SMBs (Small and Medium-sized Businesses).
More about GetApp: GetApp, a Gartner company, is an online marketplace for cloud-based business apps, specializing in helping small and medium-sized businesses find, research, and get in touch with business app providers from over 100 software categories. GetApp's Europe office is based in Barcelona, Spain.