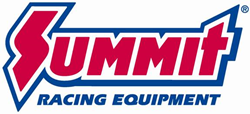 Tallamdge, OH (PRWEB) April 05, 2016
Summit Racing now carries C&R Racing's Radiator Module for 1967-70 Mustangs with a Ford Modular V8 swap. It features a crossflow style aluminum radiator with two rows of 56mm tubes for maximum cooling plus integral 10-plate oil and power steering coolers.
C&R claims the coolers work better than any air-to-oil cooler available. They also free up engine bay space needed to fit the wide Modular engine.
The C&R Racing Radiator module also comes with dual 11 inch SPAL electric fans that generate 2,900 cfm of airflow, plus a plastic fan shroud and a billet aluminum radiator cap.
The radiator has an upper passenger side inlet and a lower driver's side outlet. Overall Height: 18.500". Overall Width: 28.750". Overall Thickness: 7.750".
Applications: 1967-70 Mustangs with a 4.6L, 5.0L, 5.4L, or 5.8L Modular V8.
Summit Racing Equipment
http://www.SummitRacing.com
1-800-230-3030