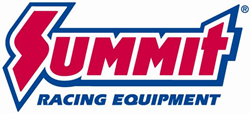 Tallmadge, OH (PRWEB) April 08, 2016
Summit Racing now carries Taylor Extreme Series Ignition Wire Sets. The Extreme Series ignition wires feature ceramic boots that can withstand temperatures up to 2,000 degrees F—well past the point where conventional boots would simply fail. That's a huge plus for racing, tow vehicles, and vehicles with supercharged or turbo engines.
Summit Racing offers two types of Taylor Extreme Series wires:
ThunderVolt 8.2mm Wire Sets
Dyno-tested to outperform similar wires, the ThunderVolt wires provide superior spark energy. That helps increase horsepower and torque and smoothes out the idle. Features include:

50 ohms of resistance per foot
8.2mm, two-layer silicone jacket
Ferrite spiral-wound coated core for excellent RFI and EMI resistance
Spiro-Pro 8mm Wire Sets
These wires deliver maximum spark energy with up to 10 times less resistance than standard resistor core wire. The spiral core also suppresses the RFI and EMI that messes with electronic ignitions, on-board computers, stereos, and pit radios. Silicone inner and outer jackets provide heat protection up to 600 degrees F.
Taylor Extreme Series Ignition Wires are available for many Chevy, Ford, and Chrysler V8 engines.
Summit Racing Equipment
http://www.SummitRacing.com
1-800-230-3030