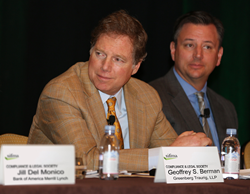 Florham Park, NJ (PRWEB) April 01, 2016
Geoffrey S. Berman, co-managing shareholder of the New Jersey office of the global law firm Greenberg Traurig, LLP, spoke at the March 2016 Securities Industry and Financial Markets Association (SIFMA) Compliance & Legal Society Annual Seminar held in Orlando, Florida. Geared toward compliance and legal professionals, the seminar included 65 panels and sessions focusing on regulatory and legal developments impacting the industry.
Berman spoke on the panel, "Arbitration: Practical Considerations." The panel's discussion included prehearing motion practice, experts, explained decisions, expungement, arbitrator selection and recusal issues, and actions against non-FINRA members.
Berman has more than 20 years of legal experience in both the government and private sectors. He focuses his practice on commercial litigation and criminal and regulatory investigations. From 1990 to 1994, Berman was an Assistant U.S. Attorney in the Southern District of New York where he handled complex criminal prosecutions, including tax and securities violations. From 1987 to 1990, Berman was an Associate Counsel in the Office of Independent Counsel Iran-Contra, where he successfully prosecuted a former CIA employee for tax fraud.
Greenberg Traurig also sponsored the seminar.
About Greenberg Traurig, LLP
Greenberg Traurig, LLP is an international, multi-practice law firm with approximately 1900 attorneys serving clients from 38 offices in the United States, Latin America, Europe, Asia, and the Middle East. The firm is No 1. on the 2015 Law360 Most Charitable Firms list, third largest in the U.S. on the 2015 Law360 400, Top 20 on the 2015 Am Law Global 100, and among the 2015 BTI Brand Elite. More information at: http://www.gtlaw.com/.