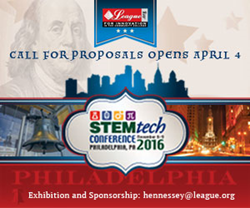 Chandler, AZ (PRWEB) April 05, 2016
The League for Innovation is pleased to announce its call for proposals for the 2016 STEMtech Conference, to be held in Philadelphia, PA, November 6-9. STEMtech brings the best of STEM, analytics, big data, advanced technology, and learning management architecture. Join colleagues at this international convening to share and explore research, best practices, and new ideas.
All conference events take place at the Philadelphia Marriott Downtown, where historic attractions, world-class dining, arts and entertainment, and premier shopping are blocks away. Stroll this vibrant city and explore America's Old and New World charm. In Philadelphia, everything is just around the corner, but miles from ordinary.
STEMtech provides opportunities for colleagues to showcase model programs and share lessons learned through eight conference tracks:

Learning Analytics
Advanced Technology Systems and Learning Management Architecture
Using Analytics to Recruit, Retain, and Transition Students
Advances in E-Learning
Health and Science
Mathematics, Engineering, and Architecture
Manufacturing, Energy, Aerospace, and Agriculture
Integration of STEM and the Liberal Arts
Proposals for the following presentation formats are requested:
Forums are one-hour breakout sessions featuring a successful practice, innovative program, or timely issue related to a conference track.
Roundtable Discussions are one-hour sessions that afford a personal and interactive setting for the exploration of key issues related to a conference track.
Poster Sessions are one-hour visual displays among which conference participants move freely.
League Alliance and other community college representatives are invited to submit a proposal. League Corporate Partners are encouraged to participate as presenters and exhibitors.
Presenters are required to register and pay the conference registration fee. Neither honoraria nor expenses are provided to presenters.
The deadline for submitting proposals is June 17, 2016.
For more information, visit the 2016 STEMtech Conference website.
About the League for Innovation in the Community College
The League for Innovation in the Community College is an international, nonprofit organization dedicated to catalyzing the community college movement. The League hosts conferences and institutes, develops print and digital resources, and leads projects and initiatives with more than 800 member colleges, 160 corporate partners, and a host of other government and nonprofit agencies in a continuing effort to make a positive difference for students and communities. Information about the League and its activities is available at http://www.league.org.