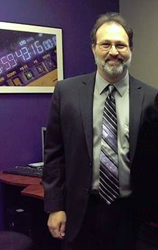 When the opportunity to attend the Connecticut School of Broadcasting came along, I thought, that's it, that's what I want to do.
Orlando, FL (PRWEB) April 04, 2016
Less than a year ago, Tim Devlin was working in Orlando's busy tourism industry but he just wasn't feeling fulfilled. Just months later, he's turned an internship at Hall Communications Group (WONN WPCV WLKF WWRZ) into a full time career as Assistant Production Manager/Traffic, thanks to the Connecticut School of Broadcasting!
"Tim graduated in July of last year (2015). I am a huge fan of his passion, attitude and work ethic and I'm so proud of him!" says Orlando Campus Director Shayna King.
Tim is happy he made the leap, "I'd been working in Tourism ever since High school. Theme Parks, hotels, travel agencies; you name it, I did it. It was good work, but it wasn't what I wanted to do. After several years, I needed something else. When the opportunity to attend the Connecticut School of Broadcasting came along, I thought, 'that's it, that's what I want to do.' It wasn't easy, but with hard work, dedication, and a few moments of panic around exam time, I gained the skills I needed to land a job at a local radio station."
The Connecticut School of Broadcasting is the Nation's largest group of Broadcast Media Schools. CSB has campus locations in CT, MA, NJ, NY, NC, GA and FL. If you're looking for a career in broadcasting call 1-800-TV-Radio or log on to http://www.gocsb.com