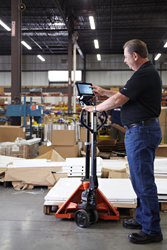 WARMINSTER, Pa. (PRWEB) April 04, 2016
Havis Inc., an ISO 9001:2008-certified American Manufacturer, will debut its full line of computer docking stations and cradles, unique equipment mounting solutions and power supply options during its first appearance at MODEX from April 4-7, 2016 at booth #2019. Havis will display docking stations designed specifically for Apple, Dell, Getac, Microsoft and Panasonic devices at booth #2019.
Havis will introduce the latest addition to its full line of mobile office mounting, docking and solutions – Havis Pallet Jack Mounts. The patent-pending Havis Pallet Jack Mount Series provides safe, secure and functional solutions for mounting tablets in a cradle or docking station, on a variety of pallet jacks, whether flat-top or rounded.
The Havis booth #2019 at MODEX 2016 will also have on display the following as part of Havis' line of mobile office solutions for material handling applications:

Numerous new cradles and docking stations for tablets, laptops, and convertible computing devices;
New Havis Keyboard and Mount, featuring a compact and functional design to minimize worker strain and increase productivity;
New Havis Touch Screen Display, a slim space saving option with built in speakers, independent power supply, HDMI connection and VESA hole pattern for mounting;
Havis Screen Blanking Solutions to provide easy, safe and legally-compliant solution for managing mobile displays while in motion and reducing worker distraction;
Havis Mounting Solutions for forklifts, material handling carts and in-vehicle cabins and trunks.
Havis works closely with computer original equipment manufacturers (OEMs) – including Apple, Dell, Getac, Microsoft and Panasonic – to design and manufacture quality mobile office solutions that maximize the functionality of a computing device while ensuring the comfort and safety of mobile professionals.
Follow Havis
Stay up-to-date on the latest products and announcements from Havis through the Havis Equipped Blog, LinkedIn and Facebook.
About Havis
Havis Inc. is a privately held, ISO 9001:2008-certified company that manufactures in-vehicle mobile office solutions for public safety, public works, government agencies and mobile professionals. For more than 80 years, the Havis mission has been to increase mobile worker productivity with industry-leading products that are built to the highest safety and quality standards and are designed with comfort in mind. With headquarters in Warminster, Pa. and an additional location in Plymouth, Mich., Havis currently employs 250 people. For more information on Havis, please call 1-800-524-9900 or visit http://www.havis.com.
# # #