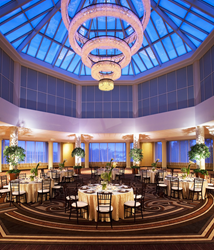 We also understand that many bridal couples want to have a memory of a lifetime, and also watch their budget. We have become very creative in finding ways to allow our guests to 'have their (wedding) cake and eat it, too,'" said Tim Bowes, VP of Sales.
(PRWEB) April 18, 2016
Next Sunday Crescent Hotels & Resorts will host a bridal show where wedding couples can meet vendors and learn about the latest options available to them as they prepare for their special day. The event will be hosted at the Sheraton Tysons Hotel, just steps from the Spring Hill Metrorail stop on the Silver Line. Crescent Hotels & Resorts is a leading operator of hotels with over 100 properties in North America, including fifteen in the Washington, DC area.
On April 24, 2016, from 1pm to 4pm, wedding couples can meet with suppliers of wedding gowns, tuxedo rentals, bridal party attire, cakes, DJs, venue decorations, flowers and other offerings. This helps give an insight to all the needs of planning their special day. The bridal show is free to those planning weddings. Attendees may RSVP online or by phone: (703) 610-8256. Six of Crescent Hotels' fifteen Washington, DC area managed properties will be present at the show to help guide wedding couples through the wedding planning process. These include: Sheraton Tysons Hotel, Sheraton Reston Hotel, The Westin Arlington Gateway, Hilton Crystal City, DoubleTree by Hilton Largo-Washington DC and the Holiday Inn & Conference Center Frederick. Those attending the show can learn about what the hotels have to offer including menu selections, packages and more. For those that have already selected a wedding venue, vendors will be on hand to provide suggestions for other needed details.
"Our hotels work very closely with professional wedding planners, local churches, country clubs and have truly earned great reputations based on the experiences had by all," said Tim Bowes, Vice President of Sales and Marketing for Crescent Hotels & Resorts. "We also understand that many bridal couples want to have a memory of a lifetime, but still want to watch their budget. We have become very creative in finding ways to allow our guests to 'have their (wedding) cake and eat it, too.' We have various offers including weekend day weddings and weddings over holidays to name a few. Also, to help busy brides do research as well as check space at our Washington, DC locations; we have created a website page especially for weddings." All Crescent Hotels are Tag Approved, demonstrating their commitment to the LGBT community, making each hotel a perfect choice for same sex marriage ceremonies and receptions.
"We feel it's important that bridal couples have an opportunity to learn what is available to them in the Washington, DC area," said Linda Westgate, General Manager of the Sheraton Tysons, the host of the event. "As wedding couples are not professional event planners, we took special care to make the show an opportunity to collect a lot of important information, and have fun at the same time." Food samples will be available to attendees so they may have a "taste" of some of the popular dishes offered in popular wedding packages.
The Sheraton Tysons Hotel, with the largest ballroom in Fairfax County, an affluent suburb of Washington, DC, offers another unique space for wedding couples. Its crown jewel is a unique octagon shaped ballroom with floor-to-ceiling windows, topped with a glass dome and accented with a spectacular chandelier. "Brides love this space," said Westgate. "It really does create a wow effect when brides first see this ballroom … it's tailor- made for weddings."
As wedding couples are prepping early for the 2016/2017 wedding season, so are hotels. "Last month our hotel celebrated its tenth anniversary and last year completed a major renovation of all our banquet and meeting space," said Michael Broadhurst, General Manager of the Westin Arlington Gateway. "Brides naturally gravitate to The Westin brand, due to its solid reputation for excellent service, creative culinary and attention to detail; all necessities for when it comes to social events such as weddings," said Broadhurst, "and we are proud to exceed the high expectations of our wedding clients."
Crescent Hotels & Resorts is one of the few management companies in the Washington, DC area that allows outside catering. "We cater to many international weddings that have very specific menu requirements," said Bowes, "so we allow our guests to bring in licensed caterers. As a matter of fact many of our weddings have been referred to us by our by catering partners because they know the level of service we provide and are confident we will take such great care of their upscale wedding clients. We feel it's crucial to allow outside caterers for specific cuisines such as Persian and kosher style weddings, to name just a few."
"We are proud to have close ties with so many local churches, synagogues and area wedding planners, making the Sheraton Reston Hotel, an extremely popular option for weddings," said Don Anderson, Complex General Manager, who oversee the hotel and its adjacent sister hotel, The Westin Reston Heights. The Sheraton has become an iconic venue for weddings for over forty years and is known for being a long standing member of the ever growing Reston community. With over 22,000 square feet of event space, the hotel is the perfect space for receptions ranging in size from 40 guests to 400. The Westin, while only eight years old, has quickly become a mainstay for those planning weddings. The venue hosts a patio wedding option with catering by their award winning Vinifera Wine Bar & Bistro. The Westin specializing in intimate weddings up to 50 guests.
Many wedding couples select a venue based on location where their out of towner guests can extend their visit to the nation's capital as there is so much to see and do in the region. "We have become a very popular location for weddings not just because we have the ideal event space for social events, but we also boast a location that is ideal for out of town guests," said Harold Bassler, Area General Manager, who oversees the Hilton Crystal City at National Airport. The hotel is just steps from countless restaurants, dining and entertainment options. Additionally, being walking distance to Metrorail puts wedding guests in the center of region's major attractions in just minutes. The hotel also offers complimentary shuttle to Reagan National Airport, the city's closest airport. For those with wedding attendees traveling from east coast cities, the hotel is just one Metrorail transfer from Union Station, home to Amtrak. The hotel can host wedding receptions of up to 500 for plated events.
One of the newest Washington, DC wedding venue options is the DoubleTree by Hilton Largo-Washington DC. Last year the hotel completed a multimillion dollar renovation, including a full redesign of its event space. "Our ballroom that can accommodate up to 170 guests, makes our location the perfect selection for intimate wedding receptions," said Ralph Randall, General Manager. "We have received tremendous feedback on our new 'Intimate & Elegant Wedding Package' that was just unveiled at our private wedding show in February."
For those north of the city, the Holiday Inn & Conference Center Frederick is a popular option. "We have been a long standing favorite in the wedding community," said Mark Wright, the hotel's General Manager. "It's always fun to have bridal couples come in to talk about their wedding plans and hear people say they picked our hotel because this is where there parents were married." The hotel is not just a local favorite. Wright also sees a growing trend for Washingtonians who want a location away from the hustle and bustle and close to the kind of natural beauty and history a town such as Frederick, Maryland has to offer. The hotel can host wedding for up to 500 guests. They also offer a separate entrance to their event facilities and expanse pre-function space for receptions prior to their sit down meals.
Couples planning their wedding may check space availability for ceremonies, bridal showers, receptions, rehearsal dinners, day after brunches and also guest room accommodations for out of town friends and family at any or all Washington, DC area hotels online in just a few clicks.
ABOUT CRESCENT HOTELS & RESORTS
Crescent Hotels & Resorts is a nationally recognized, top-5 operator of hotels and resorts. Crescent currently operates over 100 hotels and resorts in 27 states in the US and 5 provinces in Canada. Crescent is one of the few elite management companies approved to operate upper-upscale and luxury hotels under the brand families of Marriott, Hilton, Starwood, Hyatt and IHG. Crescent also operates a collection of legendary independent hotels and resorts. Crescent's clients are made up of hotel REITs, private equity firms and major developers. For more information, please visit http://www.chrco.com.
rw Stayinwashingtondc.com #stayinwashdc