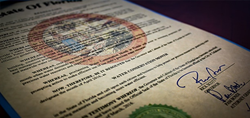 Today our group represents public and private sector interests, which together, is instrumental in promoting water conservation month
Clearwater, Florida (PRWEB) April 05, 2016
Tampa Bay Water joins the State of Florida, private businesses, water management districts and local governments in declaring April as Water Conservation Month. This annual proclamation underscores the need to conserve water during Florida's typical spring dry season.
Tampa Bay Water and its member governments are involved in statewide conservation coordination through the Florida Section of the American Water Works Association's Water Use Efficiency Division (WUED). In an effort led by Tampa Bay Water to highlight conservation program awareness statewide, the WUED worked with the Governor and Cabinet to officially proclaim April, 2016, as Water Conservation Month.
The WUED includes organizations from both the public and private sector working together with the support of Commissioner of Agriculture, Adam Putnam, to make Florida the only state in the nation to adopt the proclamation. With the State's support, up to 200 utilities throughout Florida will adopt their own proclamations, put on education events and continue to focus on increasing water use efficiency during our driest month.
"Today our group represents public and private sector interests, which together, is instrumental in promoting water conservation month," said Dave Bracciano, demand management coordinator for Tampa Bay Water, during the proclamation signing ceremony with the Governor and Cabinet on March 29, 2016.
The highest potential for water savings in the spring is in outdoor water use. Florida's temperatures increase in April, May and early June while the state's rainfall is low. This leads many residents and businesses to use more water on their landscapes.
Some tips to save water outdoors this spring are:

For more tips on how to save water during water conservation month, please visit tampabaywater.org/water-saving-tips.
About Tampa Bay Water
Tampa Bay Water is the largest wholesale water supplier in Florida, providing high-quality drinking water to its members, who in turn, supply water to more than 2.4 million residents of the Tampa Bay area. Tampa Bay Water member governments include the cities of New Port Richey, St. Petersburg and Tampa, and the counties of Hillsborough, Pasco and Pinellas. TampaBayWater.org