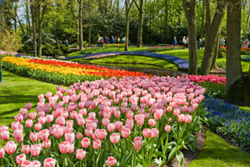 San Francisco, Calif. (PRWEB) April 05, 2016
Ahh spring. With many countries in bloom through May, travelers have various options for heralding the return of warmer weather and enjoying spring flower fests around the globe. Viator, a TripAdvisor company and the leading resource for tours and activities worldwide, has a selection of experiences for those with an insatiable fondness for flowering plants, from Holland's Keukenhof Tulip Gardens to the cherry blossoms in Japan and the nation's capital.
Holland
From the moment the first tulip was planted in Dutch soil, the Netherlands has been in extravagant bloom. Travelers looking to see nature in all its glory will enjoy visiting in April and May, when the country is blanketed in a blaze of color. The world's largest flower garden, Keukenhof Gardens, welcomes nearly 1 million visitors looking to enjoy the unforgettable display of springtime blooms, and Viator's Skip the Line: Keukenhof Gardens Tour and Tulip Farm Visit includes a pre-booked admission ticket to sail past the ticketing line and maximize time spent leisurely exploring the gardens. The Keukenhof Gardens and Tulip Fields Tour from Amsterdam includes a ride through the Dutch countryside and three hours of free time to enjoy the gardens. Those looking to discover the best of the Dutch countryside will enjoy the Amsterdam Super Saver, which combines two popular tours in one day and visits the Zaanse Schans windmills and shipyard, a local shoemaker, fishing villages Volendam and Marken, and a cheese factory before spending the afternoon at the Keukenhof Gardens.
Washington D.C.
Now is the time to stroll amid the famed Yoshino cherry blossoms that line Washington, D.C.'s Tidal Basin, with their delicate white and pale-pink petals in full splendor and the National Cherry Blossom Festival offering travelers the opportunity to usher in springtime. Viator's Cherry Blossom Riverboat Cruise on the Potomac offers the perfect vantage point for viewing the trees along with other iconic monuments and memorials, with a brief history lesson on Tokyo's 1912 gift of 3,000 cherry trees. The Cherry Blossom Photo Safari at Tidal Basin begins at the secret spot "Our Lady of the Blossoms Cherry Tree" and winds along Tidal Basin path, with stops at the best trees for cherry blossom portraiture and useful tips on travel photography. Hop on a Segway for a unique tour and perspective of Washington, D.C.'s top sights along, with several stops along the edge of Tidal basin to admire the cherry blossoms. The Viator Exclusive: Cherry Blossom Bike Tour, available only through April 14, includes a two-hour ride past blooming trees led by a professional guide.
Japan
Japan's love affair with cherry blossom trees dates to the first century, and today blossom-viewing parties abound wherever the blooms of Japan's national flower appear. New on Viator, the Private Cherry Blossom Tour in Hirosaki with a Local Guide stops at various sites to learn about the region's history, architecture and culture, with ample time for cherry blossom viewing in Hirosaki Park and a visit to the Tsugaruhan Neputa village. The Cherry Blossom Viewing Party with Local Food and Drinks introduces guests to the true Japanese way of viewing cherry blossoms, with a walk along the Meguro River to view more than 800 cherry trees and a visit to a Japanese pub for a cherry blossom viewing party. Visit some of Tokyo's most scenic locations and iconic landmarks on the full-day Cherry Blossom Viewing and Tokyo Tower Tour, including Tokyo Tower, Zojoji Temple, Shinjuku Gyoen, Chidorigafuchi and Kitanomaru Park, home to the remains of Edo Castle, and Showa Memorial Park, a showcase for 200 blooming cherry trees offering ample opportunity to enjoy the different varieties on display.
For more information on Viator's cherry blossom, tulip and other flower-focused tours and attractions, as well as the latest deals, promotions, contests and news, visit http://www.viator.com or follow Viator on Facebook (ViatorTours) and Twitter (ViatorTravel).
About Viator
Viator, a TripAdvisor company, is the leading global tours and activities provider for travelers, delivering online and mobile access to thousands of curated trip activities including tours, attractions, shore excursions and private guides, in more than 1,500 destinations worldwide. In-house travel experts work with trusted local operators to ensure the quality and value of every experience, all backed by Viator's 24/7 customer service and global low-price guarantee. With more than 800,000 verified reviews plus exclusive videos and insider travel tips, Viator has everything a traveler needs to find and book the best things to do worldwide. In addition to the flagship site – Viator.com – travelers can book in advance or in-destination via the Viator Tours and Activities App, as well as local-language sites for European, Latin American and Asian travelers. Viator also provides tours and activities to more than 3,000 affiliate partners including some of the world's top airlines, hotels and online travel agencies. Viator is headquartered in San Francisco with regional offices in Sydney, London and Las Vegas. Viator – travel with an insider.