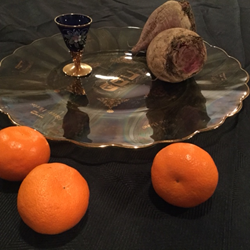 Rabbi Blane feels at home in Greenwich Village where Sim Shalom offers its live Jazz High Holiday services
(PRWEB) April 07, 2016
Passover happenings at Sim Shalom, the online synagogue, will reflect its unique and global character by providing joyful, musical and educational Passover events on April 22 and 23 which welcome all including Elijah.
On the evening of Friday April 22nd the most beloved and observed Jewish Holiday begins. Passover is the symbol of the Hebrew Exodus from slavery in Egypt. Jews around the world celebrate a seder to honor the commandment of retelling the story of how G-d releases his people from bondage.
To celebrate, Rabbi Steven Blane of Sim Shalom will be leading a 1st night seder in Greenwich Village, New York City at the Knickerbocker Bar and Grill.
Beginning at 5:00pm the night will be filled with joy and music shared by the many families, and individuals who wish to dip the salt water and recline in an innovative setting as is reflected in the nearly filled to capacity reservations. Rabbi Blane feels at home in Greenwich Village where Sim Shalom offers its live Jazz High Holiday services. For more information and to make reservations contact the Knickerbocker at 212-228-8490.
No holiday would be complete without Rabbi Blane joining his online global community in worship. He will be offering a virtual Passover service celebration on the 2nd night Saturday April 23 at 7:00pm Eastern Time. Followers around the world can join Rabbi Blane who will explain the significance of the items found on the seder plate; including the modern addition of an orange and using a beet instead of a shank-bone, giving a nod to Sim Shalom's partnership with Meatless Mondays. Dayanu will be sung and all those unable to leave home for a service, seder or worship can, as always, join Rabbi Blane and the Sim Shalom community to celebrate free, communicating via live chat with one another.
Sim Shalom is an interactive online Jewish Universalist synagogue which is liberal in thought and traditional in liturgy. Created in 2009 by Rabbi Steven Blane on Manhattan's Upper West Side, Sim Shalom offers a means of connecting the unconnected. Rabbi Blane leads accessible and short Kabbalt Shabbat services every Friday night using a virtual interface and additionally Sim Shalom provides online education programs, Jazz concerts, conversion and life-cycle ceremonies along with weeknight services at 7:00PM EST led by Rabbis and students of this online community.
Rabbi Blane is also the founder and director of the Jewish Spiritual Leader's Institute,
http://www.jsli.net, the online professional rabbinical program.
Sim Shalom, a non profit 501 © (3) tax-exempt organization, nurtures a Jewish connection through its mission of innovative services, creative education and dynamic outreach to the global community. For more information visit http://www.simshalom.com or call 201-338-016