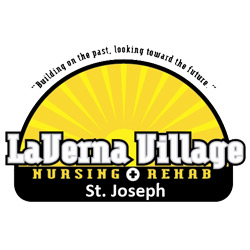 St. Joseph, Missouri (PRWEB) April 07, 2016
LaVerna Village St. Joseph announces the launch of a new website designed to facilitate the transition into rehabilitation and nursing care. St. Joseph families are invited to log-on to StJoseph.LaVernaVillage.com to learn more about skilled nursing care, short-term rehabilitation, LaVerna Village St. Joseph amenities, and speak with admissions regarding program placement.
As the region's leading skilled nursing facility, LaVerna Village St. Joseph is pleased to offer an unparalleled level of patient-focused care. Whether transitioning in to short-term rehabilitation or a long-term skilled nursing program, every patient is met with a personalized and comprehensive treatment plan designed to improve quality of life with the utmost respect for dignity and individuality.
At the heart of the organization is the LaVerna Village Nursing Department. The LaVerna Village Nursing Department proudly represents the region's largest and most diverse team of RNs, LPNs, and CNAs. An award-winning team, LaVerna Village has been named a Charter Member of the Advancing Excellence in America's Nursing Homes. This national campaign recognizes and awards only those facilities that encourage, assist, and empower staff to improve qualify of life for each resident.
Various methods of therapy are also available to help LaVerna Village patients achieve individual goals. Speech, respiratory, physical, and occupational therapy are just a few of the primary types of rehabilitative therapies offered. Every therapy program is developed to help each patient achieve individual goals for independent living, movement, and occupational success.
Hospice and respite care services are also available. LaVerna Village Medical Director, Thomas W. Alderson, M.D., provides the direction of all resident medical care services and programs. Through hospice and respite care, individuals and families receive the comfort, privacy, and support needed to traverse the difficult roads of death and bereavement. LaVerna Village hospice and respite care is offered in collaboration with Hands of Hope, Kendallwood, Asera Care, Three Rivers, Regional and SSM Hospice.
Building on the past. Looking to the future.
St. Joseph families are invited to visit http://StJoseph.LaVernaVillage.com to learn more about skilled nursing care and rehabilitation programs in northwest Missouri. For 24/7 support and admissions assistance, readers are invited to contact LaVerna Village St. Joseph online. Readers may also call directly at 816-676-1630 to speak with a friendly and knowledgeable member of the LaVerna Village St. Joseph staff.