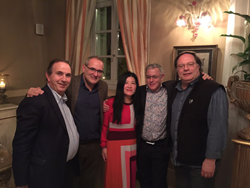 5 Star Wines is very important because there is a panel of internationally-renowned tasters. The wines that earn more than 90 points will therefore have been recognized internationally, and can face the market strengthened by this prize
Verona, Italy (PRWEB) April 07, 2016
The results are in for 5 Star Wines, the evolution of Vinitaly's International Wine Award, which began awarding medals to outstanding Italian and international wines 23 years ago. This year's competition, spearheaded by Vinitaly Managing Director Stevie Kim and Ian D'Agata, the Scientific Director of the Vinitaly International Academy (VIA), was judged by an international team of wine experts, who scored wines on a 100-point scale, moving away from the medal system of previous years.
Of the more than 2,700 wines that entered the competition from 27 countries, 375 scored more than 90 points, and were awarded a 5 Star Wine badge - a less than 14% pass rate.
The Gran Vinitaly 2016 prize for the producers with the highest total points went to two non-Italian wineries: Weingut Werner Anselmann (Germany), and Vranken Pommery Monopole (France). Trophies were also awarded to the top wines in each category. (http://www.vinitaly.com/globalassets/pdf/concorsi-enologici/5-stars/classifica-5-star-wines.pdf).
The panel of 70 judges from around the world praised the new point system and overall ease and collegial atmosphere of the competition.
As Robert Joseph, Editor at Large of Meininger's Wine Business International explains, "This is very different from any other wine competition. We're not looking for gold, silver and bronze medals. What we're looking for here are wines that get over 90 points...These wines are really special, and I do think they will give a better experience to the people who are buying them."
Charles Curtis, Master of Wine in the US agrees: "It's a great competition because they've changed the format a bit. Instead of awarding medals – because who knows what a medal means, really – the wines are scored on the 100-point system, which everyone understands."
"I think it's a very fresh approach to wine judging and tasting," says Andy Howard, MW. "To be able to say to the consumer, 'this is a 5 Star Wine' or 'this is not a 5 Star Wine,' is a very simple message and something we can relate to. It will make communicating the quality of Italian wines – and wines from other parts of the world – easy and clear."
"This wine competition is quite different in that it has gone out of its way to select an excellent panel of judges," explains Pedro Ballesteros Torres, a Master of Wine in Spain. "This is not competition in which you say in some vague way, 'You have a gold medal.' The wines that get a 5 Star badge have been tasted by very high-level people with a lot of experience, so that is a remarkable achievement."
This sentiment was echoed by many of the judges, who noted the high caliber of their colleagues on the panels.
"They've succeeded in bringing a very interesting group of people together here, and that is crucial when it comes to tasting and judging the wines," says Bernard Burtschy, wine editor for Le Figaro.
"The level of judges is quite high, as in any serious competition, and it is nice to have on the panel ambassadors of the Vinitaly International Academy. There is a more collegial feel, and this allows for more cohesion and more discussion during the judging process," observes Igor Ryjenkov, Master of Wine in Canada.
"We've got a great diversity of people in terms of backgrounds and roles here. You find that kind of diversity in the best wine competitions, so you get a full picture and understanding of the wine," says Bruce Wallner, Master Sommelier in Canada.
"5 Star Wines is very important because there is a panel of internationally-renowned tasters. The wines that earn more than 90 points will therefore have been recognized internationally, and can face the market strengthened by this prize," says Paolo Basso, awarded World's Best Sommelier in 2013. "This new format allows the competition to play a role on the international stage, and benefits from the prestige of the Vinitaly brand as one of the most important fairs in the world."
The judges also commented on the diversity of the wines in the competition, including a great number of Italian indigenous varietals, creating a platform for producers to showcase their work on the world stage.
"What I've come away with is a great sense of the diversity and variety of wines that we find in Italy. I wish that more of them would come to China, and I hope that this competition helps establish their reputation, and helps consumers understand how to choose Italian wines," says Fongyee Walker co-founder of Dragon Phoenix Wine Consulting, China.
"In Canada buyers always look for wines with sense of place and character, says Richard Sagala, President of the Sommelier Association of Canada and VIA Wine Ambassador. The competition gives the producer the opportunity to present their offering and their work - and the buzz will get around."
In the meantime, the buzz is building in Verona – the 50th edition of Vinitaly opens on Sunday, and is expected to draw over 150,000 members of the wine trade.
About:
Veronafiere is the leading organizer of trade shows in Italy including Vinitaly (http://www.vinitaly.com), the largest wine and spirits fair in the world. The next edition of the fair will take place on 10 - 13 April 2016. Since 1998 Vinitaly International travels to several countries thanks to its strategic arm abroad, Vinitaly International. In February 2014 Vinitaly International launched an educational project, the Vinitaly International Academy (VIA) with the aim of divulging and broadcasting the excellence and diversity of Italian wine around the globe. VIA has now also organized a Certification Course with the aim of creating new Ambassadors of Italian Wine in the World.
# # #