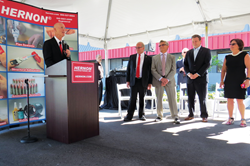 Governor Scott's focus on permanently eliminating the sales tax on manufacturing equipment gives Hernon the ability to hire more employees
Sanford, FL. (PRWEB) April 08, 2016
Hernon Manufacturing was pleased to host Governor Rick Scott who attended the ribbon cutting ceremony at the Central Florida manufacturer's facility expansion on Tuesday. Hernon Manufacturing increased their sales by 100 percent over the last three years and broke ground on their facility expansion in March of 2015. Governor Scott announced the creation of 20 new manufacturing jobs due to the expansion, increasing Hernon's workforce by almost 50 percent.
Harry Arnon, President & Chief Executive Officer of Hernon Manufacturing said, "Governor Scott's focus on permanently eliminating the sales tax on manufacturing equipment gives Hernon the ability to hire more employees and shows that he cares that every Floridian is able to get a job and succeed in Florida. We're happy that he is here with us today and look forward to hiring more employees at Hernon."
Hernon's exports, which have grown from 23 countries four years ago to 50 countries today, are expected to continue to rise as the expanded facility becomes fully operational granting greater manufacturing capacity and improving economies of scale. "Our ability to offer the customer both adhesives, sealants and coatings as well as the dispensing equipment required to apply those products eliminates the "blame game" that can occur between different suppliers," said Edgardo Rodriguez, Sales and Marketing Director for Hernon Manufacturing. "This Total Solutions approach is what drives Hernon's success. Our customer's know that we don't just sell products, we sell solutions."
New Awards and Honors!
In 2015 Hernon Manufacturing received the "E" Award for Exports from the Office of the President of the United States. This award honors Hernon Manufacturing for demonstrating a sustained increase in export sales over a four-year period.
Recent Awards and Honors!

Hernon® placed second at the Bright House Networks Regional Business Awards – March 2016
Frost and Sullivan Manufacturing Leadership Award winner! – February 2016
Hernon Manufacturing has been selected as one of the TOP 10 finalists in the Medium Business Category of the Bright House Networks Regional Business Awards – January 2016
Orlando Business Journal CEO of the Year (Harry Arnon) – October 2015
2015 Sanford Chamber of Commerce Industry Recognition Honoree – July 2015
Presidential "E" Award for Exports – May 2015
OBJ List of Top Manufacturing Companies – April 2015
Frost & Sullivan Manufacturing Leadership Award – March 2015
MAF Manufacturer of the Year Finalist – December 2014
Hi-Lex Mexicana Excellent Service Award – October 2014