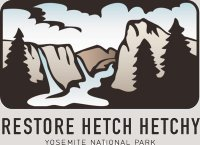 This is exciting news, especially for the Indian Tribes who have relied on the Klamath's fisheries for millennia
Oakland, CA (PRWEB) April 07, 2016
Restore Hetch Hetchy (RHH) today praised Wednesday's announcement to remove four dams on the Klamath River as a cornerstone of the program to restore the river's fisheries.
The Klamath Dams have blocked access to spawning habitat and exacerbated water quality problems for a century. The river's poor health drew national attention in 2002 when more than 70,000 adult salmon perished in its overheated and oxygen-deprived waters while attempting to spawn. After more than a decade of negotiations, Secretary of Interior Sally Jewell, Governors Jerry Brown of California and Kate Brown of Oregon, tribal leaders and farmers jointly announced an agreement to remove the four dams.(1)
"This is exciting news, especially for the Indian Tribes who have relied on the Klamath's fisheries for millennia," said Spreck Rosekrans, Restore Hetch Hetchy Executive Director. "It is also especially rewarding to see that public officials understand that, in some situations, the benefits of dam removal outweigh the costs of making it possible. That test ought to be applied to the O'Shaughnessy Dam which led to the drowning of the glacier carved Hetch Hetchy Valley in Yosemite National Park."
"Unfortunately, San Francisco has proven unwilling to consider the opportunity of restoring Hetch Hetchy Valley, in spite of studies showing it can be accomplished without losing a drop of water supply," continued Rosekrans. "We've been forced to take our issue to the courts where our case is pending. But we would be pleased to undertake substantive conversations at any level of government."
Citizens who are interested in joining the 100-year old mission to restore Yosemite's Hetch Hetchy Valley can find out more at http://www.hetchhetchy.org
Restore Hetch Hetchy's mission is to return the Hetch Hetchy Valley in Yosemite National Park National Park to its natural splendor while continuing to meet the water and power needs of all communities that depend on the Tuolumne River.
Media Relations
Melanie Webber, mWEBB Communications, (949) 307-1723, melanie(at)mwebbcom(dot)com
(1) http://www.opb.org/news/article/historic-klamath-dam-removal-gets-a-second-chance/