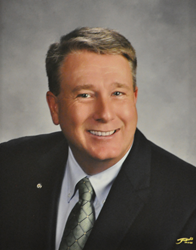 [John] is one of the driving forces behind the development of a capable workforce in our community."
WILMINGTON, DE (PRWEB) April 13, 2016
John C. Gooden has been named president of M. Davis & Sons, Inc., a woman-owned, fifth generation industrial construction company based in Wilmington, Delaware. The position was formerly held by John Bonk, who will now coordinate field operations.
Gooden, who has been vice president at M. Davis since 2002, has more than 25 years of experience in the contracting and construction industry. As president, he will have oversight of safety, human resources and employee training. He will continue to be instrumental in the development of new markets and client relationships.
"John is the trusted point person on contract negotiations for our company," said Peggy Del Fabbro, CEO. "He is also one of the driving forces behind the development of a capable workforce in our community through his passionate commitment to regional vocational high schools and training facilities. We're excited to have his leadership, experience, integrity and dedication in his new role as president."
Gooden earned his bachelor's degree in mechanical engineering from the University of Delaware via an ROTC scholarship. He continued to serve in our armed forces with the United States Army Reserves until 1996. He is a graduate of the University of Pennsylvania's Wharton Advanced Management program. He is past president of the University of Delaware Engineering Alumni and continues to be active with the engineering school through its scholarship program and the university's Engineers Without Borders Chapter. A 20-year Rotarian, Gooden is a member of the Associated Builders and Contractors (ABC) Delaware chapter, where he served on the board for seven years and as board chairman in 2012. He works with ABC's careers committee and chairs the legislative committee.
"Manufacturing is one of the fastest growing sectors of the economy, so it's an exciting time to be president of an organization like M. Davis, whose inclusive culture is to foster and encourage the next generation of workers," Gooden said. "I am excited to be working with Peggy Del Fabbro and the rest of our talented team to continue the company's rapid momentum and industry leadership."
About M. Davis & Sons, Inc.
M. Davis & Sons, Inc. is a fifth generation woman-owned merit shop mechanical/electrical contractor and fabricator located in Delaware, serving customers in the Oil & Gas, Chemical, Pharmaceutical, Food, Beverage and Industrial markets. For more information, visit http://www.mdavisinc.com.
# # #