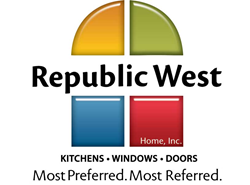 Scottsdale, AZ (PRWEB) April 08, 2016
Republic West Home is giving homeowners more options to spruce up the look of their home without breaking the bank.
Republic West Home now offers homeowners 12 month no interest financing for kitchen remodeling. Republic West Home seeks to improve their customer's experience by offering monthly payments on kitchen renovations.
Some things that can be financed are all new windows, cabinet refacing and a full kitchen remodel. Several of these services can be purchased for monthly payments often as low as $99 a month. Republic West Home wants to offer most homeowners a kitchen remodel within the budget of $10,000-$20,000.
Republic West Home is a licensed, bonded and insured contractor servicing Scottsdale and Phoenix, Arizona as well as Las Vegas and all surrounding cities. Free estimates can be obtained seven days a week by calling (480) 423-9300.
About Republic West Home:
Republic West Home is a company that stands for quality, honesty and the best value. Our vision, in an industry often lacking ethics and reliability, is to deliver the best home improvement experience possible.
To deliver the best possible experience before, during and after the completion of your project, an extensive team of professionals was put in place: employees driven to make the home improvement experience a great one for you, our customers. The formula works and the pleasant experiences we create for our customers have paid off. In an industry where repeat business averages less than 5%, Republic West Home and our 15,000+ clients generate an amazing 50% of our business from previous customers and referrals.
For additional information, please call 480-423-9300 or visit http://www.republicwesthome.com
Media contact:
Jason W. Jantzen
Phoenix Marketing Associates
http://www.PhoenixMarketingAssociates.com
602-282-0202