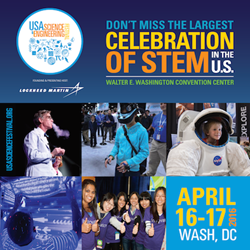 "The USA Science and Engineering festival, an event designed to inspire kids to explore STEM careers, is the perfect opportunity for kids to get hands-on with our fun and educational building sets," said Michael Araten, President and CEO of K'NEX Brands
Hatfield, PA (PRWEB) April 11, 2016
K'NEX Brands, the only US construction toy company focused on Building Worlds Kids Love®, will be participating in the 4th USA Science & Engineering Festival Expo and Book Fair, hosted by founding and presenting sponsor Lockheed Martin®. Designed to inspire the next generation of innovators, the Festival Expo is a free, family-friendly expo that allows kids and adults to participate in more than 3,000 hands-on activities, and see more than 100 live stage performances.
"The USA Science and Engineering festival, an event designed to inspire kids to explore STEM careers, is the perfect opportunity for kids to get hands-on with our fun and educational building sets," said Michael Araten, President and CEO of K'NEX Brands. "K'NEX is focused on building the leaders of tomorrow. Our fun and educational building sets teach children critical concepts in sequences that build upon each other and can be used with real-world applications. STEM is the heart of innovation and innovation drives growth, profit and jobs of the future."
The Festival Expo, which takes place at the Walter E. Washington Convention Center in DC on April 16 from 10 a.m. – 6 p.m. and April 17 from 10 a.m. -4 p.m. Eastern Time, includes more than 1,000 of the world's leading professional scientific and engineering societies, universities, government agencies, high tech corporations and STEM outreach and community organizations.
The two-day Expo is perfect for teens, children and their families, and anyone with a curious mind who is looking for a weekend of fun and discovery. Meet science celebrities like Grammy Award-winning alternative music band "They Might Be Giants!" and Bill Nye the Science Guy! In all, the Festival expects more than 250,000 people to participate.
The K'NEX Build and Learn Zone invites kids of all ages to have fun with hands-on learning while designing, building, investigating, problem solving, and evaluating scientific and design principles in action using Mighty Makers, Tinkertoy, and K'NEX Rods, Connectors, Gears, Tires and Hubs at interactive building stations! Children will have the opportunity to chat with some of the designers and engineers who make America's favorite construction toy, while parents explore the retail shop. Teachers are also encouraged to stop by and learn how K'NEX Education building sets can complement their STEM curriculum. Attendees will also have the opportunity to "Guess the Number of LINCOLN LOGS®" in a life-size Lincoln Logs Cabin for their chance to win free K'NEX sets!
To learn more, visit http://www.USAScienceFestival.org.
About K'NEX Brands
Founded in 1992, K'NEX Brands, the world's most innovative construction toy company, was established to make and sell what has become one of the world's leading integrated construction systems for children, and is America's STEM building solution. Winner of over 350 international awards and recognitions, K'NEX is focused on Building Worlds Kids Love® and encourages youngsters to "imagine, build and play." From the living room to the classroom, K'NEX has building toys specially designed for every age group and skill level. The K'NEX family of brands includes K'NEX Building Sets, K'NEX Thrill Rides, K'NEX Education®, K-FORCE Build and Blast™, Beasts Alive®, Mighty Makers®, Mario Kart Wii™, Mario Kart 7™, Mario Kart 8™, Super Mario™, Plants vs. Zombies™, Lincoln Logs® and Tinkertoy®, under license from Hasbro, and more. Since 1992, The Rodon Group®, a subsidiary of K'NEX Brands, L.P., has manufactured over 36 billion parts for the K'NEX building toy system. Join us as we help build the leaders of tomorrow. For more information, please visit http://www.knex.com or http://www.rodongroup.com.
###