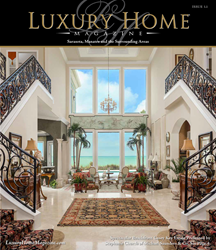 This will be a time we look back at someday as the point where LHM went from a nationally recognized brand to a global icon of luxury real estate marketing.
El Dorado Hills, CA (PRWEB) April 11, 2016
Luxury Home Magazine of Sarasota, Manatee and the Surrounding Areas features the same high impact tools that are currently found in LHM's other locations across the United States. LHM is an oversized "Coffee Table Magazine" which features the finest luxury real estate for sale in a specific geographic market. Published bi-monthly, LHM is distributed through a variety of channels including the use of powerful direct mail, targeted upscale distribution, and proven methods of reaching high net worth individuals. Luxury real estate specialists who offer these luxury homes for sale utilize LHM as a core part of their individual branding and listing specific marketing plans.
The premiere issue of Luxury Home Magazine of Sarasota, Manatee and the Surrounding Areas was successfully launched in February. It's known for featuring some of the most breathtaking luxury homes in all of Florida. The location of the Sarasota, Manatee and Surrounding Areas luxury homes market is ideal for accessing some of the finest restaurants, world famous beaches, golf courses and equestrian properties that Florida has to offer. Its luxury real estate market is very unique and offers a variety of luxury lifestyles. The premiere issue of LHM boasts beautiful beaches covering the coastline of Sarasota, Manatee and Surrounding Areas that has an expansive network of bays, rivers and canals that offer boating access to the Gulf of Mexico and are home to a number of waterfront communities for boaters, anglers, and those who enjoy the views and lifestyle of waterfront living. This premiere issue also features prestigious golf course communities that are among the best in the country and the ability to play 365 days out of the year.
The Sarasota edition of LHM, is owned and operated by Andrew Kraus. Andrew has had a long and successful career working in the real estate industry along Florida's Gulf Coast. Andrew also has prior experience working with other LHM publications and brings a strong background to this well respected national brand. Emile Bonfiglio, Vice President of Market Development, said, "I don't think there is anyone in our system that believes in what LHM can do to help Realtors and luxury home owners in a market more than Andrew. His knowledge of how LHM works as a marketing tool is equal to some of our most seasoned publishers. The real estate agents in his area are going to be in great hands as he will have nothing but their best interest in mind at all times."
Beth Afflebach & Joan Dickinson of the Michael Saunders & Company Ritz-Carlton Sarasota office state:
"We received a phone call from a customer the first week Luxury Home Magazine was distributed! She indicated she had received your beautiful magazine in the mail at her home and that she has an interest in relocating to Sarasota from the Venice area. The quality of the magazine and the beautiful, professional color photography really caught her attention. We were very excited to learn of a customer who saw our ad on the back cover and then called us for more information!"
Luxury Home Magazine has bridged the gap between traditional print and online media by fully embracing multiple social media outlets as part of their integrated product distribution. Follow Luxury Home Magazine on Instagram (@luxuryhomemagazine), Facebook (LuxuryHomeMagazine) and Twitter (@luxuryhomemag) for constant updates on the latest in luxury real estate.
Luxury Home Magazine® (LHM) has also relaunched their publishing opportunities section of their website for those looking to open LHM in other locations.
Continued expansion into new markets has long been part of Luxury Home Magazine's goal of offering the finest homes and properties available on a national scale. Recently, a new section of LHM's website (https://www.luxuryhomemagazine.com/opportunity/) was relaunched with the goal of attracting more driven and entrepreneurial minded publishers like Andrew Kraus, to join LHM's team. This new section features information about LHM's history, a step by step outline of opening a new market, testimonials from current publishers and more. Brad Taylor, CEO of Luxury Home Magazine, says, "2016 promises to be another year filled with growth and expansion of LHM. We have a number of highly qualified people right now preparing to launch LHM in some of the absolute best markets in the United States. This will be a time we look back at someday as the point where LHM went from a nationally recognized brand to a global icon of luxury real estate marketing. We still have many more places we know will support a product like ours and we welcome any who are interested in an exciting and rewarding career opportunity."
Luxury Home Magazine® is a division of Sunshine Publication, Inc. / LHM Media Group. Online magazine content featuring stunning luxury homes, the finest luxury real estate and luxury real estate specialists can be found at LuxuryHomeMagazine.com. For more information: info(at)lhmmediagroup(dot)com