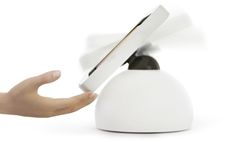 One of the reason's we chose the Reell torque insert was that they have the same commitment to quality and performance that we do here at Armodilo
Waterloo, ON (PRWEB) April 12, 2016
Armodilo's Sphere tablet enclosure is playful, quirky and fun and looks are just the beginning with this award-winning tablet kiosk. When Armodilo was searching for a mechanism to provide smooth position control for the Sphere's tablet enclosure, they looked to Reell's innovative line of torque inserts.
Solid positioning and easy adjustment of the tablet housing were critical during the design stage of the Sphere. The Reell TI Series allowed Armodilo engineers to create the Sphere's unique flip head design with 90 degree tilt providing full interactivity on both sides of the counter. The unique combination of Reell's torque inserts and Armodilo's design of the tilt mechanism makes it one of the most durable and position-able tablet kiosks in the world.
Built Tough And Tested To the Limits
Critical to the function of the Sphere is long-life performance provided by the TI Series torque inserts. "One of the reason's we chose the Reell torque insert was that they have the same commitment to quality and performance that we do here at Armodilo. The Reell components used inside the Sphere have been cycle tested beyond 20,000 movements, ensuring smooth movement and silent operation. The rugged design of our Sphere tilt mechanisms is one of the reasons our products are deployed worldwide and have an industry leading lifetime warranty." – Iles Guran, Creative Director at Armodilo
Reell provides high-quality innovative solutions to transmit torque, control angular position and protect delicate components from excessive force. Combining the world's most precisely controlled torque technology with the industry's most experienced engineering team provides a perfect product fit in customer applications. Reell's patented technology is widely used in the consumer electronics, automotive, aircraft interiors, medical technology, workstation furniture, kiosk/data terminals, and architectural lighting industries.
Armodilo was the first company in North America to design and produce tablet display systems, and their commitment to quality and innovation is what keeps them at the forefront of personalized digital signage. They continue to push the boundaries of tablet integration into commercial spaces while keeping all products 100% North American made.