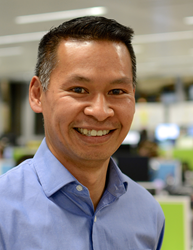 WorldRemit is a service that helps an often overlooked segment of the Australian population – the one in four people who have migrated here from overseas.
London, UK (PRWEB UK) 13 April 2016
Mobile Money transfer service WorldRemit– the UK's fastest-growing technology firm1 – has chosen Australia as its base in Asia-Pacific. One of Europe's biggest FinTech services, the WorldRemit app, lets migrants send money instantly to their friends and family abroad in Latin America, Africa, Asia and the Pacific.
WorldRemit is the leading sender of remittances globally to Mobile Money services, which have emerged as the payment system of choice in many developing countries where large numbers of people lack access to traditional banking services. With Mobile Money, people can instantly receive money transfers on their phones instead of travelling to foreign exchange bureaus to collect cash.
WorldRemit also announces today:

Michael Liu has been appointed as Regional Director for Asia-Pacific - Based in Australia, Michael is responsible for business development, building relationships with banks, telcos and other partners, and driving customer growth. Michael has over 20 years of experience in the financial services industry and was most recently an Executive Director at UBS Investment Bank. Michael brings to WorldRemit broad corporate and financial skills coupled with transactional experience in the Asia-Pacific region.
Australia is now WorldRemit's second biggest market after the UK - WorldRemit customers in Australia currently send around 80,000 transfers a month, which represents year-on-year growth of nearly 100%.
A quarter of WorldRemit transfers from Australia are now received as Mobile Money - Migrants in Australia are increasingly turning to WorldRemit because it allows them to send money to the phones of unbanked friends and family in developing countries.
Michael Liu, Regional Director for Asia-Pacific, WorldRemit, comments: "WorldRemit is a service that helps an often overlooked segment of the Australian population – the one in four people who have migrated here from overseas. I am excited to be part of a strong, fast-growing business that is also making a positive impact on financial inclusion and migrant lives."
Ismail Ahmed, CEO and founder of WorldRemit, says: "Australia and the wider Asia-Pacific region play a critical role in our global expansion plans. Michael Liu's deep knowledge of and connections with the financial sector will be invaluable as we cement our position as the leading digital money transfer service worldwide.
"Migrants in Australia already send tens of thousands of transfers to places like Ghana, Zimbabwe, India, the Philippines and the Pacific Islands. We see tremendous growth opportunities in sender countries such as Australia, New Zealand and Japan as well as key receiver countries across Asia-Pacific region. "
ENDS
Note to editors
Images for press here.
WorldRemit customers worldwide currently send 400,000 transfers each month.
WorldRemit's revenues in 2015 was AUD55m.
WorldRemit currently employs over 230 people globally.
About WorldRemit
WorldRemit is changing the way people send money.
It's easy – just open the app or visit the website – no more agents:
Transfers to most countries are instant – send money like an instant message.
More ways to receive (Mobile Money, bank transfer, cash pickup, and mobile airtime top-up).
Available in over 50 countries and 125+ destinations.
Backed by Accel Partners and TCV – investors in Facebook, Spotify, Netflix and Slack.
WorldRemit is the UK's fastest-growing technology company (Deloitte Technology Fast 50 2015)
WorldRemit's global headquarters are in London, UK with regional offices in the United States, Canada, Japan, Australia and New Zealand.