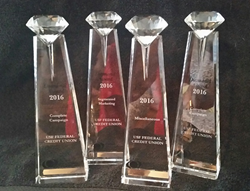 "The credit union is very excited to be recognized for these achievements and the awards are a testament to a truly collaborative effort." - Deborah Clark, Chief Marketing Officer at USF Federal Credit Union
Tampa, FL (PRWEB) April 19, 2016
USF Federal Credit Union (USF FCU) in Tampa was recently honored by the Credit Union National Association (CUNA) Marketing & Business Development Council with four Diamond Awards. The judging panel received over 1,100 entries from credit unions across the nation for the opportunity to be distinguished among their peers in the industry. The recipients of each award are carefully selected based on the strategy, creativity, design, copy and results of their marketing endeavors.
"The Diamond Awards competition represents the pinnacle of credit union marketing and business development. Honoring credit unions in 30 categories, ranging from brand awareness to website, social media to mobile marketing, credit unions and individuals that receive these awards represent the very best of the best in their profession," said Andy Reed, Chair of the CUNA Marketing & Business Development Council and President/CEO at Texas People Federal Credit Union.
USF FCU received awards in the segmented marketing, complete campaign, and miscellaneous categories for their rewards credit card program, fall car sale, summer loan promotion, and the renovation of the Marshall Center Student Branch and launch of their executive internship program. "The credit union is very excited to be recognized for these achievements and the awards are a testament to a truly collaborative effort," said Deborah Clark, Chief Marketing Officer at USF FCU.
The award winners were recognized at the council's 23rd annual conference held March 20-23 in Anaheim, Ca. For further details about the CUNA Diamond Awards or to view the entire list of winners, go to http://www.cunacouncils.org/awards.
To learn more about USF Federal Credit Union, please visit http://www.usffcu.org or call (813) 569-2000.
"USF Federal Credit Union offers a full range of financial services to the faculty, staff, students, alumni association members, and their families worldwide in addition to the organizations with employees on the campuses of the University of South Florida. USF FCU recently expanded membership to include employees of Darden Restaurants, Inc., Red Lobster employees and numerous businesses across the Tampa Bay area. Founded in 1959, USF FCU has over 52,000 members and more than $500 Million in assets. USF Federal Credit Union has six branch locations and participates in the Shared Services Network, which allows access to branch locations nationwide."
"The CUNA Marketing and Business Development Council is a member-led organization comprised of more than 1,200 credit union professionals from across the United States. The Council strives to provide superior educational and networking opportunities to help its members be recognized in the credit union industry as the premier experts in credit union marketing, business development, and related disciplines. The Marketing & Business Development Council is one of the six organizations that make up the CUNA Councils, a network of more than 6,600 credit union professionals."