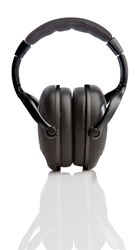 We knew we had a one-of-a-kind product combining hi-definition hearing enhancement and the ultimate hearing protection, but to see the overwhelming results with the number of backers and funds raised speaks volumes
Draper, UT (PRWEB) April 12, 2016
ProSounds, a technological leader in hearing protection and enhancement, has been heard loud and clear with sounds of success with its latest crowdfunding campaign. As a result of the incredible popularity of the M-4 Earmuffs, pre-orders at discounted prices for consumers will now be available on Indiegogo InDemand, a platform for successful crowdfunding campaigns to continue to fulfill demand from new backers.
"We knew we had a one-of-a-kind product combining hi-definition hearing enhancement and the ultimate hearing protection, but to see the overwhelming results with the number of backers and funds raised speaks volumes," said ProSounds President and Innovator Weston Harris. "The success of our crowdfunding validates that our M-4 Earmuffs are game changers for the hearing protection industry."
The unique and revolutionary features of the M-4 allow users to wear hearing protection continuously, but improve hearing when necessary. With four internal mics, the M-4 gives high quality and multi-directional sound allowing for greater noise enhancement and audio quality. Each head muff comes with its own volume control, which can increase the sound by up to 4 times and can customize the volume for each ear.
For ear protection, the M-4 automatically blocks any noise louder than 85 db, which helps significantly to prevent noise induced hearing loss with a noise reduction rating of 25 db. The M-4 is the perfect combination of improved sound quality and elimination of unwanted sounds.
The sleek design allows users to improve sound and protection in many different situations. Hunters will be able to hear deer and other wildlife better by amplifying noises around them thanks to the M-4's directional microphones. When shots are fired, the users hearing is protected but the head muffs allow conversation with others around them because of the enhanced sound.
ProSounds M-4 also offers workplace safety while wearing them in loud environments such as factories, construction sites, etc. The sturdy and reliable design offers enhanced protection for the head muffs in situations where they take a beating.
Additional features include:

Automatically blocks sound over 85 db
Hearing enhancement up to 10 times normal hearing
Four directional mics to pinpoint sound
Dual adjustable volume control
Tapered cup design
Adjustable padded headband for comfortable fit
Audio input jack
3.5 mm auxiliary cable input to allow users to connect their phones, devices and listen to music through the head muffs
Compatible with electronic in-ear devices, the M-4's don't feedback
The ProSounds M-4 is now available on Indiegogo InDemand at special early bird pricing.
For more information, and to pre-order ProSounds M-4 visit: https://www.indiegogo.com/projects/prosounds-m-series-electronic-hearing-protection#/
About ProSounds
ProSounds is dedicated to designing and producing innovative hearing products to improve the lives of individuals by offering unmatched hearing protection and enhancement devices. On a daily basis, their highly skilled engineering, technical and sales associates demonstrate their vision for product excellence, superior service, unconditional integrity and customer value. The M-4 will bring customers a great combination of greatly improved sound enhancement and world-class technology that blocks unwanted sounds over 85 db. ProSounds M-4 head muffs, ears have never enjoyed sound this much.