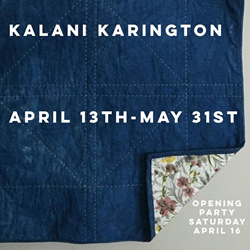 "I still treasure my baby blanket. It transports me to my childhood. Simply holding it brings a flood of warm feelings and memories." Kalani Karington
Portland, OR (PRWEB) April 12, 2016
Kalani Karington opens her show at Beam & Anchor Wednesday, May 13th with a meet and greet reception scheduled for Saturday afternoon.
This six-week exhibit features many works in Kalani's five-yen quilt series including the mesmerizing piece titled "Infinity."
These unique, hand-crafted quilts are available for purchase at the show with prices ranging from $295 to $2,000. Each quilt is fashioned from hand-dyed fabrics, vintage, and reclaimed textiles and comes with an authentic five-yen coin.
When asked what inspired her to create the five-yen brand, Kalani said "the five-yen coin has been a long-time symbol of good luck and connection in Japan where it is widely believed that putting a five-yen coin in a wallet before any other money will attract good luck."
Kalani adds: "I still treasure my baby blanket. It transports me to my childhood. Simply holding it brings a flood of warm feelings and memories. And today, I love making these for people who won't settle for wrapping themselves or their child in mass-produced department store blankets."
People who wish to enjoy the experience of making love, star-gazing or just comfortably dreaming under a handmade piece of magic may purchase their own one-of-a-kind quilt at the exhibit or online at: http://www.fiveyenquilts.com
Exhibit hours are 11-6 Monday-Saturday and 12-5 Sundays. Beam & Anchor is located at 2710 N. Interstate Ave, Portland, Oregon.