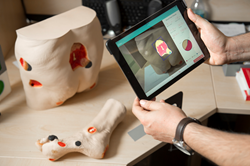 "...it allows faster, more accurate assessment of wound, resulting in more appropriate treatment for patients" - Patrick Wong, Executive Director of Global Surgical Devices for Daewoong Pharmaceutical
Fairfax, VA (PRWEB) April 13, 2016
eKare Inc, a US based medtech company, will partner with Daewoong Pharmaceutical to market inSight™ in the Asia-Pacific region. The inSight™ Wound Assessment Solution provides accurate and convenient 3D wound measurement and documentation at the point-of-care for pressure ulcers, diabetic foot ulcers, and other hard-to-heal chronic wounds. Built on top of Apple iPad, inSight™ enables clinicians to obtain a full set of 3D measurements, including depth and volume, by simply snapping a photo of the wound without direct patient contact. Under the terms of the partnership, Daewoong will work with eKare to obtain regulatory approvals and to manage marketing, sales and distribution activities of eKare inSight™ in the territory.
"inSight is designed to provide latest sensing technology to customers with easy to use interface and affordable price," said Patrick Wong, Executive Director of Global Surgical Devices for Daewoong Pharmaceutical. "We have now reinforced the D+ Wound Solution lineup by partnering with a leading wound assessing company like eKare. We expect this will positively impact both patients and doctors as it allows faster, more accurate assessment of wound, resulting in more appropriate treatment for patients."
eKare Co-Founder and Chief Medical Officer, Dr. Kyle Wu, states, "We are truly excited to work with a leading pharmaceutical company such as Daewoong to bring our innovative solution to the Asia Pacific Region. Chronic wounds are significant problems worldwide. With a shared vision in improving clinical delivery and quality, the Daewoong-eKare partnership will bring about significant improvement to how we care for chronic wounds."
----------------
Upcoming Events
eKare Inc will be exhibiting at the SAWC Symposium in Atlanta, GA in April, 13-17th, 2016.
Daewoong will be exhibiting at the WUWHs in Florence, Italy in September, 25-29th, 2016
About eKare
eKare Inc. is dedicated to the design and development of wound assessment solutions using the latest computer-vision and mobile technology. eKare's innovative technology is creating new possibilities in how we deliver wound care across the healthcare continuum, from inpatient hospital and skilled nursing facilities to ambulatory clinics and telemedicine. eKare's mission is to advance the science and delivery of wound care by leveraging mobile and sensor technologies to connect patients, providers, and industry.
About Daewoong
Daewoong Pharmaceutical Co. Ltd. is a leading Korean pharmaceutical company with annual turnover of nearly $727 million in 2014. Daewoong is ranked the first in South Korean pharmaceutical market in terms of requested reimbursement totals, according to Health Insurance Review Agency (HIRA). Daewoong is one of the leading surgical device manufacturers and distributors in South Korea, providing total wound management solutions and a broad spectrum of bone products for orthopedic & dental applications. Daewoong has expanded global business operations throughout Asia and is currently developing strategies for the global market. Daewoong is dedicated in providing high quality products portfolio of allograft, DBM, synthetic bone grafts, spinal implants, NPWT, growth factors and advanced wound dressings.
*D+Wound Solution Guidebook has been published to provide the systematic wound care information ranging from the diagnosis of wounds to the optimum treatment plan and D+Wound Solution mobile App assist accurate wound assessment and provide proper treatment solution.