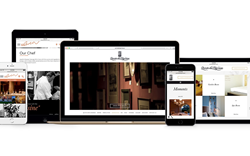 "We are delighted to help traditional and unique brands like the Lágrimas Hotels&Emotions Group to evolve to the leading edge of digital marketing", said Pedro Colaço, CEO of GuestCentric
New York (PRWEB) April 14, 2016
GuestCentric, the leading provider of cloud-based digital marketing software for hotels, today announced that Lágrimas Hotels&Emotions Group has chosen GuestCentric to strengthen its digital presence with award-winning website, social marketing and merchandising tools for all its properties. These features will enable the group to extend its customers base, providing singular shopping experiences while promoting the uniqueness of each property.
With a strong tradition in hospitality, Lágrimas Hotels&Emotions Group is a family company that explores tourism flagship units, famous for being real temples for Portuguese emotions and well being. Lágrimas Hotels&Emotions Group boasts three of the most emblematic hotels in Portugal, members of international networks such as the Relais & Châteaux and the Small Luxury Hotels of the World: Infante Sagres Hotel, in Oporto; Quinta das Lágrimas Hotel, in Coimbra; and Hotel da Estrela, in Lisbon. The group also owns Eleven, a Michelin-distinguished restaurant.
"Each hotel of Lágrimas Hotels&Emotions Group carries a unique history and we needed a partner that could reflect it in our new websites. After looking at all options in the market, GuestCentric award-winning design stood out," said Miguel Júdice, CEO of Lágrimas Hotels&Emotions Group. "Besides, GuestCentric's sales oriented design engages our visitors encouraging them to book directly through the hotels official website – having a great impact in our online revenue."
GuestCentric is an award-winning leader in both design and innovation, recognized with over 100 international awards. Focused on revenue generation with simplicity and ease-of-use, its innovative digital marketing software provides all features needed for hotel digital marketing success: sales-oriented and responsive websites, user-friendly booking engine mobile-optimized for hundreds of devices, a channel manager with access to over 400 integrations, social marketing, SEO optimization and extensive reporting and analytics.
"We are delighted to help traditional and unique brands like the Lágrimas Hotels&Emotions Group to evolve to the leading edge of digital marketing. The great combination of GuestCentric's design best practices and rich content will result in a complete web experience that translates the group look and feel in award-winning websites, mobile and social media," said Pedro Colaco, CEO of GuestCentric. "In addition, Lágrimas Hotels&Emotions Group will be able to drive its properties bookings through the hotel most valuable channel, their official website."
About GuestCentric
GuestCentric is a leading provider of cloud-based digital marketing software that helps hoteliers protect their brands, drive bookings and connect to their customers and on all digital platforms. GuestCentric's all-in-one platform provides hoteliers with award-winning responsive web sites for mobile, tablets and desktops; a user-friendly booking engine; a social marketing module to publish deals on Facebook, Twitter and other social networks; and a channel manager to offer rooms on Booking, Expedia, TripAdvisor and hundreds of other channels. GuestCentric has operations in New York, San Diego, London, Barcelona and Lisbon and is a proud partner of hotels that are part of collections like Design Hotels, Small Luxury Hotels, Leading Hotels of the World and Relais & Chateaux. For more information, please visit http://www.guestcentric.com
About Lágrimas Hotels&Emotions Group
Lágrimas Hotels&Emotions Group are iconic sanctuaries located in outstanding destinations around Portugal where understated luxury blends with warm service. They have been a home away from home for discerning travellers since 1917 offering one-of-a-kind experiences, exquisite Portuguese food and a genuine hospitality.For more informatiom, please visit: http://www.themahotels.pt/
Contact Info:
Catarina Pimentel
Marketing Assistant
Email: catarina(dot)pimentel(at)guestcentric(dot)com