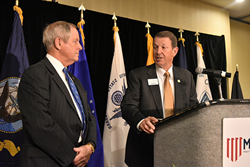 You came at the right time; you give us the right information. … It really [gives] us an ability to promote military families, which is what we want to do.
Alexandria, Va. (PRWEB) April 14, 2016
Rep. Joe Wilson (R-S.C.), chairman of the House Armed Services Committee's Subcommittee on Emerging Threats and Capabilities, recounted the scope of recent advocacy efforts led by MOAA council and chapter leaders during his keynote address at the Military Officers Association of America's (MOAA) Council Presidents' Dinner April 13.
Retired Air Force Gen. Charles T. Robertson Jr., chairman of MOAA's board of directors, said during his introduction "Rep. Wilson has tremendous passion to serve his country as a member of the United States Armed Forces. … and he and his wife, Roxanne, are the proud parents of four sons, all of whom serve in the U.S. military." Wilson retired in 2003 as a Colonel in the South Carolina Army National Guard.
During his address, Wilson praised MOAA's Storming the Hill activities in Washington earlier that day, noting particularly "the information you provided — the inserts that you gave us with graphs and charts." He added, "This is a Congress that needs to see things in print." Earlier Wednesday, approximately 160 MOAA members had taken to Capitol Hill to engage their congressional representatives on issues important to the entire military community.
"What a difference [MOAA] makes," he reflected. "You … made the difference in regard to my service as chairman … on very important issues related to military health care. [People] came before our committee and [testified] that the military health care costs were eating the budget alive. MOAA … brought it to my attention that [on the contrary,] military health care costs were flat."
He then highlighted MOAA's efforts to preserve TRICARE benefits: "On the TRICARE issues, you gave us information that we'll be able to work with, and we'll be able to fight. … You came at the right time; you give us the right information. … It really [gives] us an ability to promote military families, which is what we want to do."
Wilson also expressed appreciation for MOAA's other legislative initiatives, such as repealing the Survivor Benefit Plan/Dependency and Indemnity Compensation "widows tax," a massive financial penalty that burdens military survivors. "I've been working on this issue since I was elected 15 years ago, and I feel like I've been spinning my wheels — until today." He praised MOAA for the "clearest explanation" he had heard of the SBP/DIC issue.
On the subject of keeping commissaries open for military members and their families around the globe, Wilson said, "It's important to have a worldwide system. It's not just the ability to buy an American product at a remote location … It's also an [employment] opportunity for spouses and children. Please keep fighting on that."
Wilson concluded that it often "may take years for what you do to be appreciated … [but] I am confident [because] MOAA is making a difference supporting our military families."
Following Wilson's remarks, Robertson thanked the congressman by presenting a $6,000 MOAA Scholarship Fund senior grant in Wilson's name.
-End-
About MOAA:
Military Officers Association of America (MOAA) is the nation's largest and most influential association of military officers. With more than 390,000 members — active duty, former, retired, and National Guard and Reserve officers from all seven uniformed services and their spouses and surviving spouses — it is a powerful force speaking for a strong national defense and represents the interests of military officers and their families at every stage of their careers. For those who are not eligible to join MOAA, Voices for America's Troops is a nonprofit MOAA affiliate that supports a strong national defense. For more information, visit http://www.moaa.org.