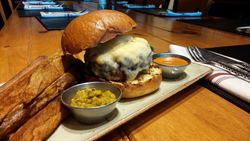 "We work really hard as a team to consistently use freshly prepared, high-quality ingredients to create traditional favorites that contribute to the unique dining experience that customers experience at Liquid Assets."
Ocean City, Maryland (PRWEB) April 15, 2016
Liquid Assets received international accolades this week after receiving a nod from Conde Naste Traveler as one of the Best Burgers in America. The international publication, which focuses on travel, food & drink, and arts & culture, selected 15 cities across the country to stop for the tastiest burger creations and burger-based combos. The selections were based on the 2015 Reader's Choice Awards, which honed in on the best cities for burgers across the country. Not only did Ocean City make its mark with readers in 2015, but Liquid Assets stood out strongly in their minds as well for their authentic Wagyu Burger.
"I'm so proud of Liquid Assets for being recognized as the best burger," said Liquid Assets owner John Trader. "We work really hard as a team to consistently use freshly prepared, high-quality ingredients to create traditional favorites that contribute to the unique dining experience that customers experience at Liquid Assets."
Liquid Assets is a restaurant deeply rooted in a heritage of passionate food and beverage service, with a staff that believes that hospitality is not an out-of-date art from, but a pleasure. With an expansive menu centered on fresh, inventive dishes that cater to all palettes, the Wagyu Burger is one of many customer favorites that bring both locals and visitors to Ocean City to dine at Liquid Assets year after year.
"As a long-standing business in Ocean City, we are proud to not only see our own establishment making its mark, but also the town that we call home," added Trader.
For the full article, visit http://www.cntraveler.com/stories/2016-04-08/the-best-burgers-in-america-top-15-cities. Or for more information on Liquid Assets, visit la94.com.