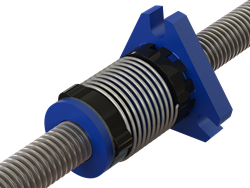 We really like this new nut design...it uses less of our HP budget to run our fluid pump - Principal Engineer - Fortune 500 Medical Device Company
(PRWEB) April 22, 2016
Helix Linear Technologies, the leaders in precision lead screw manufacturing, announced today that they are expanding their lead screw nut offering by developing offering a torsional anti-backlash nut design. This is the newest design in our series of zero backlash and wear compensating nuts. The Torsional Anti-Backlash (TAB) nut design offers high axial stiffness and extremely low drag torque. The nuts are rated for moderate to high dynamic and static load ratings.
Made from our Helix® proprietary self-lubricating polyacetal with Teflon® micro powder, this nut is available in a full range of lead screw sizes from ¼" (6mm) to ¾" (20mm) diameters on an extensive list of leads from less than .039" (1mm) to greater than 2.00" (50mm). The lead screws for these nuts are made from 300 series stainless or 4140 alloy steel with optional Teflon® coating finish for reduced friction, increased efficiency and longer nut life. This nut offers reduced components and ease of assembly with flanges and thread mounts interchangeable with the competition.
Custom mounting configurations are also available. The design has a shortened nut length to reduce the OAL or increase stroke length for a given lead screw. Modifications can be made as required and this low torque/high axial stiffness design includes a unique machined version for applications that require a smaller nut size due to space limitations.
These new nut designs offer the lowest required torque than any other design on the market. Click here to view the products on our website.