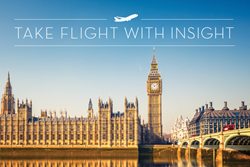 Travelers who book select trips to Europe and pay in full by April 28, 2016 receive one heavily discounted airfare rate of $399 when another airfare is booked at regular price.
Delray Beach, Fla. (PRWEB) April 15, 2016
Insight Vacations®, the leader in premium escorted journeys, is offering an exclusive limited-time air promotion that significantly saves guests on airfare. Travelers who book select trips to Europe and pay in full by April 28, 2016 receive one heavily discounted airfare rate of $399 when another airfare is booked at regular price. Guests can choose from an extensive list of more than 70 tours and 300 departure dates from both the Premium and Luxury Gold 2016 Europe and Britain collections, including many of Insight's most popular tours.
"We are always looking for ways to provide our guests with the best value possible," said Phil Cappelli, president of Insight Vacations. "By securing this airfare promotion we were able to significantly reduce the overall cost and encourage travelers to take flight on their dream vacation."
Guests traveling on their own or traveling in groups are also eligible for savings – solo and odd-numbered travelers will receive up to $500 in air credits when they pay in full by April 28, 2016.
Insight's unforgettable Signature Experiences, authentic Signature Dining and remarkable Signature hotels allow guests to explore the world through the eyes of a local while enjoying each destination's most iconic attractions and little-known hidden gems. Perennial favorites include a leisurely journey to Barcelona, San Sebastian and Madrid with "Easy Pace® Spain"; a cultural and culinary immersion in the best of Rome, Florence, Portofino and Venice on "Treasures of Italy"; and an unhurried voyage through the beautiful Irish countryside, historic English towns, and austere Scottish Highlands on "Britain and Ireland Explorer."
For a complete list of qualifying tours and departures, please visit http://www.insightvacations.com/bogo.
Terms & Conditions: For new bookings only. Prices shown are per person, land-only, vary by departure date and assume double occupancy (single supplements apply). Airfare is additional. Offer only applies to select itineraries and departure dates as listed on flyer and website at insightvacations.com/BOGO . First person pays full airfare including taxes & fuel; companion flies for $399. Guests must travel on all segments together. Offer valid for even-numbered travelers only. Solo and odd-number travelers enjoy up to a $500 air credit on qualifying flights instead, calculated on base fare only - fuel and taxes are excluded. All offers require flights booked by Insight Vacations in economy class. Actual flights and airlines booked will vary. Land & air deposit of $550 per guest is required within 7 days of booking with full payment by April 28, 2016 or 45 days before departure, whichever is sooner, unless otherwise noted at time of booking. Airfare is non-refundable, non-changeable, and non-transferable. Offers are not combinable with Red Hot Deals, Early Payment Discount, Show Specials or other promotions. Small Group and Frequent Traveler Discounts apply. Offer is subject to availability and may be withdrawn at any time without notice. Offers are not bookable online; must call Insight contact center for all bookings. Use promo code AP16BOGO399 (or AP16BOGO500 for solo/odd-number travelers) at time of booking to redeem. Further conditions apply.
For more information, please visit us at insightvacations.com, and join the conversation using the hashtag #InsightMoments on Facebook and Twitter. For reservations, contact your favorite travel agent or call Insight Vacations at (888) 680-1241.
About Insight Vacations
For more than 38 years, Insight Vacations® has been designing the world's finest escorted travel itineraries. As the experts in Europe, Insight offers over 100 journeys across the continent, covering more of Europe than any other operator. Insight Vacations also offers the same legendary high standards and carefully curated itineraries in North America, South America, India, Bhutan, Nepal, Morocco, Egypt and Israel.
Luxury Gold by Insight Vacations is an exclusive collection of unique journeys that elevate travel beyond the ordinary at every moment. Guests traveling with Luxury Gold stay at the finest hotels, dine on the epicurean regional cuisine at featured Michelin-starred restaurants and enjoy an unmatched collection of once-in-a-lifetime experiences and sightseeing.
All Insight itineraries are expertly designed for smaller groups with a maximum of just 40 guests. Each tour includes the services of an experienced Tour Director who acts as "traveling concierge," and Signature Experiences that provide a unique and revealing look into the history and culture of each destination. The authentic flavors of each country are celebrated through included Signature Dining experiences, Insight hotels are handpicked for their high quality and desirable central or scenic locations and the Insight motorcoach is specially customized to provide Business Class legroom. With the perfect balance of guided and independent exploration Insight has reimagined vacations to truly escape from the ordinary.
About The TreadRight Foundation
Created as a joint initiative between The Travel Corporation's family of brands, The TreadRight Foundation is a not-for-profit that works to help ensure the environment and communities we visit remain vibrant and preserved for generations to come. To date, TreadRight has supported more than 35 sustainable tourism projects worldwide. The foundation's guiding principle is to encourage sustainable tourism development through conservation, leadership and support for communities.
TreadRight's past project partners include WWF, Conservation International and The National Trust in the UK. Current initiatives include sponsoring the National Geographic Society's inaugural "World Legacy Awards," helping to combat wildlife crime with WildAid, and empowering individuals with the Alliance for Artisan Enterprise.
To learn more about our past and current work at TreadRight, please visit us at TreadRight.org.
###