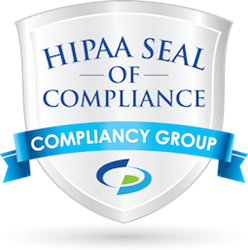 We were looking for a one-stop-shop with the ability to manage and simplify the compliance process. We needed the full package.
Huntington, NY (PRWEB) April 19, 2016
Compliancy Group is proud to announce that it has been chosen as the total HIPAA compliance solution for the web-based printing and mailing service, Click2Mail.
Karla Humphrey, Senior Business Coordinator at Click2Mail, spoke to Compliancy Group about her team's search for a total HIPAA compliance solution. "We were looking for a one-stop-shop with the ability to manage and simplify the compliance process. We needed the full package."
For Karla, finding a means of achieving and illustrating Click2Mail's HIPAA compliance was only one piece of the puzzle. Printing and mailing services are beholden to the full extent of federal HIPAA regulation as business associates if they handle PHI in any way over the course of their proceedings.
After being guided through the implementation of Compliancy Group's web-based HIPAA compliance solution, The Guard, Karla needed a means of quickly and easily monitoring the ongoing status of her organization's compliance. The Guard tracks updates to regulation and reminds users when their policies, procedures, or employee training needs to be reviewed. Using The Guard, Karla found that maintaining her compliance was as easy as logging-in and checking to see which of her employees needed to renew their training.
Click here to read the full Click2Mail case study and find out more about how The Guard simplified HIPAA compliance for Karla and her team.
HIPAA compliance for Business Associates is growing into a fundamental differentiator that many organizations like Click2Mail have already begun using to their advantage. Compliance plays a strong part in organizations' decision-making process when it comes to choosing a BA to partner with, especially with the recent trends in HIPAA enforcement.
In the past few months alone, OCR has been drastically ramping up its enforcement efforts in regards to BA compliance. Given the mounting fines and litigation levied against organizations who have mismanaged their relationships with their BAs,HIPAA compliance for printing and mail services and BAs in general is becoming absolutely essential to protecting the integrity of their business.
Compliancy Group LLC allows anyone to simplify the growing challenges of HIPAA compliance, whether they are an experienced health care professional with compliance expertise or a front desk manager without any formal training. The Guard is our simple, cost-effective, web-based solution that can help any organization regulate and monitor all aspects of their HIPAA compliance throughout their entire practice. With Compliancy Group, you'll be guided by our team of expert Compliance Coaches to Achieve, Illustrate, and Maintain compliance with confidence under the full spectrum of HIPAA, HITECH, Omnibus, and PCI regulations. Visit http://www.compliancy-group.com or contact us at 855.854.4722 (855 85 HIPAA) to learn how simple compliance can be.