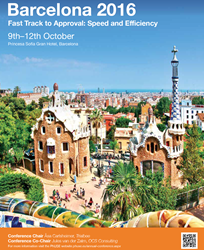 Fast Track to Approval: Speed and Efficiency
(PRWEB) April 19, 2016
PhUSE is delighted to announce three inspirational keynote speakers for its 12th Annual Conference in Barcelona. Following previous conferences featuring Professor Lord Winston, Dr Ben Goldacre and Simon Weston CBE, PhUSE will once again present motivating and inspiring speakers addressing topics relevant to clinical data science.
Former Guardian reporter and current science correspondence for ITV News, Alok Jha has broken many front-page science news stories and travelled the world experiencing them first hand. From Antarctica to Cape Canaveral via the European Space Agency, he has reported on a wide range of events and has addressed audiences at the Royal Institution and Science Museum in London. He is the author of 'The Water Book: the Extraordinary Story of Our Most Ordinary Substance". Beginning with the Big Bang, the story of how water arrived from outer space, shaped human civilisations and how without it, none of us would exist. As our first speaker at the conference, he will draw on his communication skills and cut through the jargon, to discuss the 'dos and don'ts' of how to talk to non-experts and keep them interested.
An outspoken and world leading cardiologist, Dr Aseem Malhotra is successfully leading the campaign against excessive sugar consumption in the UK. He has motivated academics, politicians and the media to make sugar reduction a priority through his commentaries in the BMJ and mainstream media. On day two of the conference he will deliver a keynote around the overuse of medicine and the efforts being made to improve transparency of information when patients make decisions around medical treatments.
Neuroscientist, Television Presenter and Author Dr Jack Lewis, is keen to focus attention on the latest neuroscience research, making it available to the widest possible audience in plain and simple terms! His book "Sort Your Brain Out" explains how the brain works and how we can alter our behaviours, beliefs and motivations to create positive change in life and our health. As both presenter and expert, he has contributed to a range of TV shows broadcast on the BBC, ITV, Channel 4 and Discovery. An experienced public speaker, he will deliver the keynote speech on the final day of the conference talking about the neuroscience of decision-making. He will draw on a vast body of research to highlight key insights that can easily be put into practice, to improve the out come of any negotiation.
This year the PhUSE Annual Conference will take place from 9th to 11th October at the Gran Hotel Princesa Sofia in Barcelona, Spain. The theme will be "Fast Track to Approval: Speed & Efficiency", highlighting one of the biggest challenges facing the pharmaceutical industry today; it takes too long and costs too much money to get drugs to the market. Registration for the conference is now open at an 'Early Bird' discount for those who register before 30th June.
About PhUSE
PhUSE is a global community of professionals, passionate about the advancement of clinical information. With a membership of over 5,000 clinical data scientists worldwide, PhUSE is open to employees of the pharmaceutical and health sciences industries. Run by volunteers as a non-profit organisation, it provides the industry with the premier platform for creating and sharing ideas, tools and standards around clinical data and statistical reporting technologies.
Share – Contribute - Advance