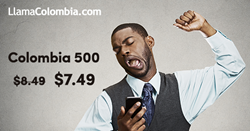 (PRWEB) April 20, 2016
Colombians are well known for their great family bounds and for being able to keep friendships alive, no matter the distance that separates them. To help Colombian expats call home even more often, LlamaColombia.com lowered the rates for international calls to Colombia by up to 20%.
Thus, for the Colombia 500 monthly plan, offering 500 minutes to call any number in Colombia, customers will pay only $7.49 instead of $8.49 and for Colombia 1000, offering 1000 minutes to call any number in Colombia, customers will pay only $11.99 instead of $14.99. The lowest monthly plan, for which customers pay $4.99 will offer 300 minutes, instead of 250 minutes. The monthly plans are monthly subscriptions which can be cancelled anytime with no penalties. Customers can renew their plans anytime. Any remaining balance from their previous plan will roll over for the next 30 days.
For less talkative expats, who don't call Colombia that much, LlamaColombia.com offers the Voice Credit product, allowing customers to enjoy great rates to call their home country: only 1.5 ¢/min to call Cali and 2.5 ¢/min to call any landline or mobile in Colombia.
Colombian expats can use the money saved also for the benefit of the people back home in Colombia, by sending them international top-ups, using the Mobile Recharge service. Claro, Tigo, Movistar, Uff, Virgin, Avantel, Etb, and Une mobile top ups are available, with values ranging from $5 to $62.5. The Colombian mobile operators offer regularly promotions which double or even triple the value of the top up.
LlamaColombia.com's mission is to bring Colombians closer together, no matter the country where they currently live. This mission makes the website a reliable partner for Colombian expats: "Es realmente confiable y seguro, una excelente opción, la recomiendo. Vivo lejos de mi familia, y por medio de LlamaColombia puedo enviarles recarga a sus celulares de manera segura y confiable. Realizó el pago y en 5 minutos ya tiene la recarga en su celular." (Katherine, on TrustPilot.com)
Customers can stay updated with all promotions and special surprises the website offers on https://www.facebook.com/LlamaColombia
About LlamaColombia.com:
LlamaColombia.com is an interactive website designed by KeepCalling, a global telecommunications company registered in 2002 in USA. Presently, KeepCalling provides its services to hundreds of thousands of consumers and businesses, with a focus on customer satisfaction. KeepCalling has been listed by Inc 5000 as one of the fastest growing companies in the USA for 5 consecutive years. In 2015 the company registered a revenue increase of over 200% from 2011 to 2014.