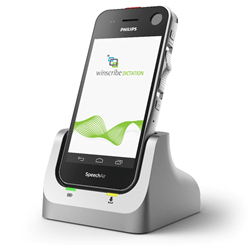 We are proud of the strategic global partnership with Winscribe. Both companies are striving to improve the life of busy professionals by providing superior dictation solutions...
Auckland, New Zealand (PRWEB) April 20, 2016
Winscribe announced today their support for the Philips SpeechAir smart voice recorder. The Philips SpeechAir represents a milestone in customer-driven product development, by bringing together the latest advancements in dictation hardware and sound technology with the comfort and familiarity of a modern smartphone. Users can enjoy the freedom of having an Android device with a touchscreen, camera, Wi-Fi and Bluetooth, but still benefit from outstanding sound quality, a comfortable slide-switch, extended battery life, professional voice file editing and maximum security controls.
The Winscribe and Philips technology partnership brings together the best of dictation hardware and software. The paired solution has been designed to save users time and resources by allowing them to work in a more flexible manner and enabling fast and efficient communication of important information. Users can dictate their reports, letters, time, directions to support staff, and more – from anywhere at any time – and send them off for transcription or to be automatically converted from voice to text, using Winscribe's revolutionary speech recognition software solutions.
Building upon the success of Winscribe's mobile speech productivity suite of applications for Android, iOS, BlackBerry and Windows smartphones and tablets, the collaboration was smooth and the new app for Philips SpeechAir delivers the same benefits, including:

Improved productivity and time management
Faster communication and document turnaround time
Immediate access to information
Flexible and remote working
Centralized and intelligent dictation workflow management
"Working together with Speech Processing Solutions for the last twelve months and seeing the solution move from alpha, beta and then on trial at multiple customer sites has been a fantastic experience. The openness to feedback between both of our teams and how the feedback was implemented by Speech Processing Solutions' product team and champions was a testament to the determination to execute a solution that is driven by market need," said Pierre Corboz, Director Product Strategy for Winscribe. "The Philips SpeechAir is an exceptional professional tool, and we are proud to promote it as a new and advanced option for our clients. Winscribe for Philips SpeechAir devices is especially beneficial to healthcare professionals who are dealing with the important 'point of contact' information – where data, voice and integrated patient information are being gathered and assessed to provide the most complete image of the situation at hand. Our expertise as a software developer and provider combined with the reliability and connected mobility of the Philips SpeechAir will increase the productivity of those users."
"We are proud of the strategic global partnership with Winscribe. Both companies are striving to improve the life of busy professionals by providing superior dictation solutions. The combination of Winscribe´s mobile speech productivity suite with the all new smart dictation recorder Philips SpeechAir is a great example of that. This combined and integrated solution will allow the professionals in the medical field, as well as in other industries, to revolutionize the speech-to-text process. The Philips SpeechAir, an innovative combination of a dedicated professional dictation device with important smartphone functionalities, multiplies the strengths of the advanced Winscribe solution," said Dr. T. Brauner, CEO of Speech Processing Solutions. "Due to close communication and alignment between the two teams, the cooperation was very professional, focused and quick. This successful integration is bringing the partnership between Winscribe and Speech Processing Solutions to the next level."
To discover more about the Philips SpeechAir smart voice recorder, please visit http://www.speechair.com. If you would like to learn more about Winscribe's mobile apps and their suite of speech productivity, documentation, and workflow management solutions, please visit http://www.winscribe.com.
About Speech Processing Solutions:
Speech Processing Solutions is the global number one in professional dictation. Founded in Austria in 1954 as part of Philips, the company has been the driving force in speech-to-text innovations for over 60 years. Always striving for excellence and putting emphasis on outstanding quality, the company has designed groundbreaking products, such as the new portable Philips SpeechAir, Philips Pocket Memo voice recorder, the Philips SpeechMike Premium dictation microphone and the Philips dictation recorder app for smartphones. The latest software innovation, Philips SpeechLive, makes dictation quicker and more convenient than ever before, by bringing secure dictation workflow to the cloud. With solutions perfectly tailored to individual industry needs, Speech Processing Solutions saves professionals' time and resources, allowing them to work as efficiently as possible. For more information, please visit http://www.speech.com.
About Winscribe:
Winscribe is a world-leading provider of speech productivity technology supporting business requirements for digital dictation, transcription, speech recognition, speech-enabled documentation and workflow management. With more than 350,000 clients worldwide, Winscribe's software solutions empower business professionals to use their voice to quickly and easily create documentation, craft emails, enter data into third-party applications, and communicate with clients faster, less expensively, and more efficiently. For more information, please visit http://www.winscribe.com.