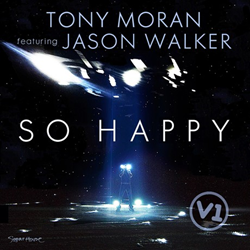 I am truly the definition of 'So Happy,' In my career, I've had the opportunity to collaborate with all the dance greats from Junior Vasquez to Bimbo Jones and now Tony Moran!
New York, New York (PRWEB) April 19, 2016
Complete with big room, mega remixes and a visionary music video by Karl Giant, two-time Grammy nominated dance producer Tony Moran and Billboard Dance multiple charting recording artist Jason Walker have released the feel-good pop-dance record, "So Happy." Written by Tony Moran and Chris Willis, an American gospel singer turned songwriter and producer best known for his collaborative work with EDM superstar David Guetta, "So Happy" wasn't complete without the powerful vocals by OUTmusic Awards winner Jason Walker.
"I am truly the definition of 'So Happy,'" reflects Jason Walker. "In my career, I've had the opportunity to collaborate with all the dance greats from Junior Vasquez to Bimbo Jones, and now Tony Moran!"
Jason Walker grew up in Pittsburgh, PA singing in church choirs and local R&B and Blues bands. He first shined in the national spotlight with a winning performance on TV's "It's Show Time at the Apollo." He then went on to record two albums, "This Is My Life" and "Flexible," on dance music icon Junior Vasquez's music label that garnered three Top 10 Billboard ("My Life," "No More," and "Movin' On"), two Billboard #1's ("Foolish Mind Games" and "Set It Free") and 2 IDMA (International Dance Music Awards) nominations that included one for 'Best Breakthrough Dance Artist.'
In 2010, Walker set out on his own, independently releasing his third full-length album "Leave It All Behind" and landed his seventh Top 20 Billboard Dance hit. His eighth release, "Raise Your Hands," climbed to #17 on the Billboard charts in 2012. He followed with "Beat Don't Stop," a song that peaked at #5 on Billboard in 2013, and "Tell It To My Heart," an explosive re-imagining of Taylor Dayne's pop classic, produced by Bimbo Jones, that hit #10 on Billboard in 2014.
"With all that's happening in the world today, isn't that what everyone wants: to be happy and feel good?" said Walker. "The dance floor is my happy place. It's where I can forget my troubles and let the music take over. For me, music is the universal truth, and when a hard beat pulses through my body, there is simply no better feeling than that. My hope is that 'So Happy' lifts listeners to their personal place of pure joy."
When deciding where to shoot the song's music video, videographer Karl Giant, who has shot for Cyndi Lauper, Ultra Nate and The One's, had in mind a destination that was far grander in scale than an atypical dance floor. Giant whisked Walker to a land of breathtaking panoramas and transcendent realities. "We went to the Salt Flats in Utah!" stated Walker. "It turned out to be one of the most exhilarating, life-changing experiences ever. Five days in the desert was insanely riveting." This wasn't the first time for Giant and Walker to join forces in the music world. Their past music video for "I Can't Get You Off My Mind" reached #1 on MTV LOGO's "The Click List".
"I'm extremely proud of Jason's performance on 'So Happy'," says Tony Moran. "It is destined to become a pop crossover hit." Tony Moran should know. In addition to serving as a staple in the LGBTQ music scene and his most impressive list of #1 dance singles including Kristine W's "Walk Away," Martha Wash's "Keep Your Body Working" and "Free People," Moran has remixed tribal house anthems for some of pop's biggest icons including Beyoncé, Rihanna, Jennifer Lopez and Madonna.
"Each artist is so different with their unique style for producing a vocal," says Moran. "The one thing all have in common is a passion and tenacity that drives them. Making dance records is hard work but when done right, boy, is it magical. Dance music has the power to make everyone 'So Happy'."
"So Happy" remixes can be purchased direct via iTunes at https://itunes.apple.com/us/album/so-happy-vol.-1-feat.-jason/id1095766799.
"So Happy's" full video can be viewed on YouTube.
Visit JasonWalkerMusic for more information.
Jason Walker Press Contact:
Stacey Barker
Jade Umbrella PR
stacey(at)jadeumbrella(dot)com
323.833.8358
Tony Moran Press Contact:
Len Evans
Project Publicity, NYC
len.evans(at)projectpublicity(dot)com
212-445-0066