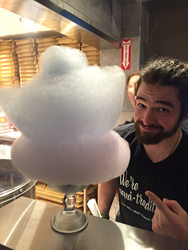 "We have created a Flying Pie that celebrates the world-famous pizzas and experience with a few new elements such as an innovative pizza lunch option and even a cotton candy dessert to keep things unexpected and fun
Newport Beach, Calif. (PRWEB) April 19, 2016
Synergy Restaurant Consultants announces the opening of the newest Flying Pie Pizzaria location in Boise, Idaho. Flying Pie was voted Best Pizza in Idaho by Business Insider and thrillist.com and was also featured on The Travel Channel's Man vs Food. Known for their unique flavors and unusual habanero pizza, Flying Pie is a local favorite with a national following.
Flying Pie owner and President, Florian Penalva, tasked Synergy Restaurant Consultants with creating a new vision for his restaurant that remained true to its unique brand identity while providing a revitalized experience and upgraded design for future growth. The success of Flying Pie relies on the relationships between their team members and guests as they provide the best pizza with their signature experience. In creating this newest location, Synergy utilized their "best in the industry" team to create something new and exciting that stayed true to their roots.
Synergy has been involved with every facet of the conceptualization, design and operational development since starting the process with Flying Pie nearly two years ago. The Synergy consulting team collaborated with ownership as an expert partner, designing Flying Pie's kitchen and interior, conducting restaurant financial feasibility studies, streamlining operations, and developing the impressive food and beverage menus. Prior to opening the restaurant, Synergy's pre-opening team spent 3 weeks training the new crew and supporting staff throughout the grand opening.
"We have created a Flying Pie that celebrates the world-famous pizzas and experience with a few new elements such as an innovative pizza lunch option and even a cotton candy dessert to keep things unexpected and fun," said Dean Small, Founder and Managing Partner of Synergy. "That's what has always set Flying Pie apart from other pizza restaurants and what we wanted to maintain throughout the development process."
About Synergy
As a premier restaurant consulting firm, Synergy Restaurant Consultants is a team of restaurant management professionals that develops innovative ideas and creates sustainable brands to drive top-line sales. Our restaurant consulting team specializes in both launching new restaurant startups and jump-starting struggling or financially distressed brands. Since 1988, Synergy has been a strategic resource to more than 250 national and independent restaurant companies within every dining segment, from Applebee's to Z'Tejas. The company is based in Newport Beach, Calif.