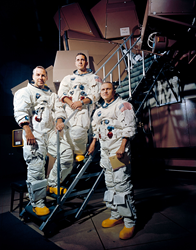 Burlington, WA (PRWEB) April 21, 2016
NASA's Apollo program ignited a fire of passion, innovation and ingenuity that propelled the United States into space and culminated in the US being first to step foot on the moon in 1969. Before the lunar landing though, came all the other "firsts"… first to fly the Saturn V, first to leave Earth orbit, first to orbit another celestial body, those firsts were achieved in 1968 by Apollo 8 crewmen Frank Borman, Jim Lovell and Bill Anders. Imagine hearing the story of the Apollo 8 mission from the men who flew it…
On May 14, 2016, the Apollo 8 astronauts will reunite for 'An Evening with Apollo 8' at the Heritage Flight Museum, located at Skagit Regional Airport in Burlington, WA. This once in a lifetime opportunity is a fundraising event to support HFM's mission to honor veterans and keep history alive. Event attendees will spend this intimate evening with Frank Borman, Jim Lovell and Bill Anders. The evening will also include a reception and four course meal.
This is indeed a rare opportunity to be a part of history, and see and hear these explorers discuss the Apollo mission that was instrumental in our landing on the moon. Tickets range in price from $1000 per person up to $10,000 per couple. Head table seating includes dining with one of the astronauts, Flight Directors, or our MC. Tickets are available online at http://www.aneveningwithapollo8.eventbrite.com.
The event will be available to watch live on Ustream for $19.95, as well as on demand at a later date. 'An Evening with Apollo 8' is intended to be produced as a documentary. To learn more about how to sign up for the live stream, purchase tickets to this event, or learn about the museum, visit HFM's website at http://www.heritageflight.org.
"We're thrilled to be able to bring this kind of international attention to our new location in the Skagit Valley," said Greg Anders, Executive Director. "Having these remarkable men willing to gather to support this museum, founded by one of the Apollo 8 crew members, Bill Anders, and share their story here at our new home, is a tremendous opportunity and we are truly grateful." As for the live streaming of the event, he said, "We have never done this before, but this is such an important event, we felt a big reach in expanding our capabilities was what we needed to do. We look forward to bringing this event to a world-wide audience."
The Heritage Flight Museum, founded 1996 by Bill and Valerie Anders, is a non-profit 501(c)(3) organization dedicated to the preservation and flying of historic military aircraft. Visitors can get an up-close look at the selection of flying World War II, Korean and Vietnam era aircraft.
For more information about the Heritage Flight Museum, visit their web site at http://www.heritageflight.org. HFM is also on Facebook (http://www.facebook.com/heritageflightmuseum) and Twitter (http://www.twitter.com/heritagefltmus).