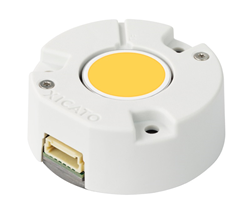 San Jose, CA (PRWEB) April 20, 2016
Xicato, a leading manufacturer of intelligent light sources, today announced that its forthcoming new technology – the Xicato Intelligent Module (XIM) with Bluetooth Smart control and management – will be demonstrated in several partner booths at the upcoming LIGHTFAIR International exhibition in San Diego on April 26-28, 2016.
The XIM with Bluetooth Smart (also known as Bluetooth Low Energy or BLE) is an LED module with integrated dimming driver. Wireless control greatly simplifies and reduces the cost of lighting installation, eliminating additional wires for communications, and enables much greater flexibility in reconfiguring lights in dynamic environments.
Unlike other wireless lighting control systems, XIM BLE uses wireless technology already available in billions of smartphones and tablets – and a growing ecosystem of sensors and switches. These devices communicate with mobile devices, and through gateways to desktop applications, that vastly simplify the provisioning, control, and administration of lighting installations, while also enabling new capabilities such as beacons, wayfinding, and more general building management. Xicato has developed reference applications – on display with these partners at Lightfair – that allow users to control individual fixtures or fixture groups using sliders or preset scenes, and to collect real time and historical operational data such as intensity, temperature, operating hours, and power quality.
Among the partners displaying the XIM with Bluetooth Smart are:

Intense Lighting (booth #4706)
Ledra Brands (booth #4843)
Lighting Services Inc. (LSI) (booth #6249)
Pathway Lighting (booth #4844)
Times Square Lighting (booth #4149)
In addition, Edison Price will present future technologies during its annual Lightfair dinner presentation. This year's keynote speaker, Nik Honeysett, discusses cutting-edge technology in museum design. To RSVP to the dinner, contact norav(at)epl(dot)com.
The XIM with Bluetooth Smart is in live customer beta trials through 3Q, and will be generally available in 4Q of 2016.
About Xicato:
Xicato designs and develops light sources and electronics that enable architects, designers and building managers to create beautiful, smart spaces in which people love to live and work. With thousands of installations around the globe, Xicato continues to be a leading supplier of high quality lighting solutions. Xicato is defining the future of intelligent light sources by integrating electronics, software and connectivity. Founded in 2007, Xicato is headquartered in Silicon Valley and has offices in China, Japan, Europe and the US.
For further information, visit http://www.xicato.com.
For additional information, contact:
Nicole Brockett
Marketing Manager
Xicato, Inc.
+1 408.472.7928
nicole(at)brockett(at)xicato(dot)com