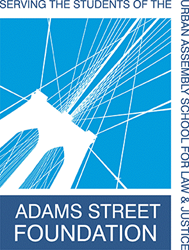 At Clutch, we strongly believe that principles that underpin our legal system such as justice and fairness do not live only within courtrooms and boardrooms but are equally essential in our classrooms as well
New York, NY (PRWEB) April 20, 2016
Clutch Group, a leading legal, risk, and compliance analytics and consulting firm, sponsored the SLJ 2016 Spring Benefit honoring Michele Roberts, Executive Director, NBA Players Association and hosted by Byron Pitts of ABC's Nightline. The benefit was held at the New York Public Library in Manhattan.
Clutch has previously supported CVLS' Race Judicata and numerous charitable initiatives across Washington D.C., Chicago, London, and Bangalore. In New York City, Clutch team members have volunteered at Leftover Cuisine and The Common Pantry, initiatives that aim to provide healthy food options in the city.
As a legal, risk, and compliance organization, Clutch is a strong proponent of the guiding philosophy of the Urban Assembly School of Law and Justice that regards justice as an enduring value in society.
"At Clutch, we strongly believe that principles that underpin our legal system such as justice and fairness do not live only within courtrooms and boardrooms but are equally essential in our classrooms as well," said Brandon Daniels, President, Clutch Group. "We are especially pleased to be partnering with the Adams Street Foundation and sponsoring this benefit for a non-selective school whose alumni have gone on to attend prestigious institutions such as Barnard College, Georgetown University, Syracuse University, and Cornell University, to name just a few."
About Clutch
Clutch Group is a leading legal, risk, and compliance analytics and consulting firm headquartered in Washington D.C., with offices in NY, Chicago, London, Bangalore, Zurich and Hong Kong. The firm is dedicated to helping companies in the financial services, life sciences, and energy industries solve complex problems presented by the exponential growth of data and regulation. Clutch's global team of attorneys, consultants, and technologists leverage deep subject-matter expertise and Clutch.IQ, a suite of cutting-edge data analytics solutions, to help clients manage large-scale litigation and investigations, conduct comprehensive communications surveillance, and re-engineer their internal legal and compliance functions. Clutch has been recognized by industry authorities including Nelson Hall, the New York Law Journal, Chambers Global, Frost & Sullivan, and Dun & Bradstreet and is regularly featured across major industry and market publications. For more information, visit http://www.clutchgroup.com.