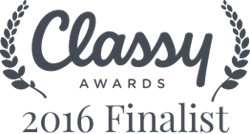 It's very special to be recognized like this for our large-scale impact and innovation in addressing America's math education crisis.
Irvine, CA (PRWEB) April 21, 2016
MIND Research Institute's ST Math program has been selected as one of 100 finalists in the 6th annual Classy Awards, recognizing the most innovative nonprofits and social enterprises of the year. More than 1,300 programs were submitted to this year's competition, spanning categories including animal & wildlife welfare, disaster relief & public safety, education advancement, and poverty & hunger relief.
All applications were put through a rigorous four-phase vetting and evaluation process to assess each organization's potential to solve a problem through its innovative solution.
"The Classy Awards team spends a year extensively researching social innovations from around the world. We've been fortunate to discover some incredible organizations over the past few years, but this year's pool of nominees is one of the strongest we've ever seen!" said Pat Walsh, Co-Founder and CIO of Classy.org. "We're honored to play a role in convening leaders throughout the sector to recognize their efforts."
ST Math is among the 17% of Classy Award finalists focused on improving education.ST Math uses a unique visual method that provides students a strong foundation in math to foster their future academic achievement, and college and career success. Rather than relying on language processing and rote memorization, ST Math teaches math visually, promoting a deep, conceptual understanding of the subject. ST Math also shifts the old paradigm of "teaching by telling" to a "learning by doing" approach, which ensures that students' learn to creatively and persistently apply their problem-solving skills to real-world challenges and problems.
"MIND Research Institute is honored to be among the finalists for the Classy Awards," said Matthew Peterson, Ph.D., CEO and co-founder of MIND Research. "Each day, we are gratified to see students experience success in math, but it's very special to be recognized like this for our large-scale impact and innovation in addressing America's math education crisis."
ST Math currently reaches more than 1 million students, and has repeatedly proven in districts across the country to double and even triple growth in math proficiency. Developed by neuroscientists, the ST Math provides visual, computer-based math games designed to support deep understanding of math concepts. Students use ST Math on computers or tablets, with teacher facilitation and in a blended learning environment.
As a social benefit organization, MIND partners with foundations and corporate donors to help bring its unique learning program to high-need schools. Some of MIND's philanthropic partners include PwC Charitable Foundation, Hyundai Motor USA, Boeing, OneWest, Phillips 66, Verizon, Cisco Foundation, John Deere Foundation and Fluor Corporation.
Finalists will be evaluated by Classy's Leadership Council based on judging criteria of scale, scope and leadership expertise of the problem being addressed, innovative approach, ability to solve the problem, and organizational effectiveness and resource management. Ten Classy Award winners will be announced on June 16 at the Collaborative, three-day event in Boston that brings together top social innovators from around the world.
MIND Research Institute
MIND Research Institute is a neuroscience and education social benefit organization, dedicated to ensuring that all students are mathematically equipped to solve the world's most challenging problems. MIND's distinctive visual approach to math and problem-solving is the basis of its innovative, research-proven ST Math® programs for elementary and secondary schools. The visually-based ST Math program has been shown to double or triple schools' growth rates in math proficiency. Through its MathMINDs movement, MIND engages the community in hands-on mathematical experiences outside of the classroom in an effort to shift the cultural perception of math from being scary and frustrating to exciting and essential. MIND's programs currently reach one million students and 39,000 teachers at 3,100 schools in 43 states and the District of Columbia. For more information, visit http://www.mindresearch.org.